COVID-19 has made it almost impossible for people to step out without wearing a face mask. The face mask has become a new normal in the current phenomenon. A face mask safeguards the people from the double danger of COVID-19 and air pollution. Doctors have also confirmed that air pollution is accountable for a high rise in COVID-19 cases. Dry cough, stifled throat, headache, and watery eyes are some of the common symptoms of the novel coronavirus. And people often experience these contaminated symptoms due to bad air quality.
Hence, wearing a face mask is the first and foremost precaution you can take to stay protected from the double danger of COVID-19 and airborne infections.
How to buy the best face mask?
Buying a good quality face mask isn't easy at all, specifically when every other brand makes it and claims to offer the best protection against the global pandemic. Don't get trapped in the gimmick of any mask maker. Instead, follow these simple tips to buy the best mask for you and your family.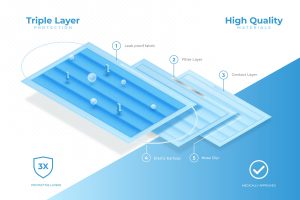 Multi-layered Masks:
Make sure the mask you wear contains multiple layers of fabric. According to medical experts, layered face masks offer better protection against air pollution and COVID-19. A multi-layered face mask filters out the virus, bacteria, germs, pollutants, and other dust particles more effectively than one without layers.
Leak-proof Masks:
Another vital consideration is to make sure that the mask you wear is leak-proof. If it is not leak-proof and allows air to escape while breathing, the protective efficiency of the mask is at high risk. A leak-proof face mask with a proper fit is highly useful in keeping fumes, pollutants, dust particles, germs, and other airborne illnesses away from you.
Proper and Comfortable Fit:
Go for ear loops! Earloops with silicon sliders are one of the most important considerations while buying a face mask. Mask with ear loops is more convenient and quicker to use than the other available options. Also, the attached silicon sliders allow the users to adjust the ear loops to make the mask fit even more firmly and comfortably.
Easy Breathing Efficiency:
Since masks are meant to wear when going outside, it is integral to ensure that the mask you wear comes with low respiratory resistance and does not cause breathing difficulty. It will not only offer you a comfortable fit but also allow you to wear the mask for a longer period whilst keeping you calm and cosy.
Certification Standards:
While the certification standards for a face mask significantly vary from pole to pole, European Union FFP2 and Chinese KN95 standards are two of the most widely accepted certifications. Both these certifications assure the users get a higher degree of filtration efficiency and protection against COVID-19.
Do Surgical Masks Protect Against Pollution?
All surgical masks are not made equal; most of them fail to filter out small PM 2.5 (particulate matter). However, a high-grade mask can protect against pollution and viruses (up to 80-90%). So, choose your masks carefully to get the utmost protection against pollution and viruses.
Bonus Tips:
Surgical masks get grubby after a couple of hours. Change your face masks after every 5-6 hours. Don't prolong their use.
Give a good wash to reusable/cloth masks and allow them to dry in the sunlight.
Throw your used mask in a closed bin.
The Takeaway:
Keep the above-listed considerations in mind the next time you buy a face mask to stay protected against COVID-19, airborne ailments, and particle pollution.