Following a proper skincare routine is crucial for every man and woman to maintain healthy, glowing skin. And homemade toner for face is an important skin care product found in every skin care routine. Be it the daily CTM (cleaning, toning, moisturizing) routine or the basic beauty routine, no skin care regimen can be complete without the use of toner. Still, homemade face toner is one of the most underrated products in the world of skin care.
CTM is a common phrase you will often find in every beauty blog and magazine. While cleansing and moisturizing are the general steps that each one of us follows, toning is something that we often overlook.
So why should we use Toner? Because it's a magical beauty tonic! Toners help balance the pH level of the skin, remove excess oil, and eliminate deep-seated dirt, as well as prepare the skin for the application of other skincare products.
While the skin care market is overloaded with a wide variety of facial toners, making a DIY homemade toner for your face at home is a great way to feed your skin with nature's wonders. If you have dry skin, sensitive skin, or acne-prone skin, homemade toner is simply bliss for you.
Use homemade toner for the face right after cleansing and before applying moisturizer when the skin is a little damp. It will help the product penetrate deeper into the skin.

GlamUp Gallery
In this blog, we will share homemade face toner recipes, but first, have a quick view of the benefits of facial toners.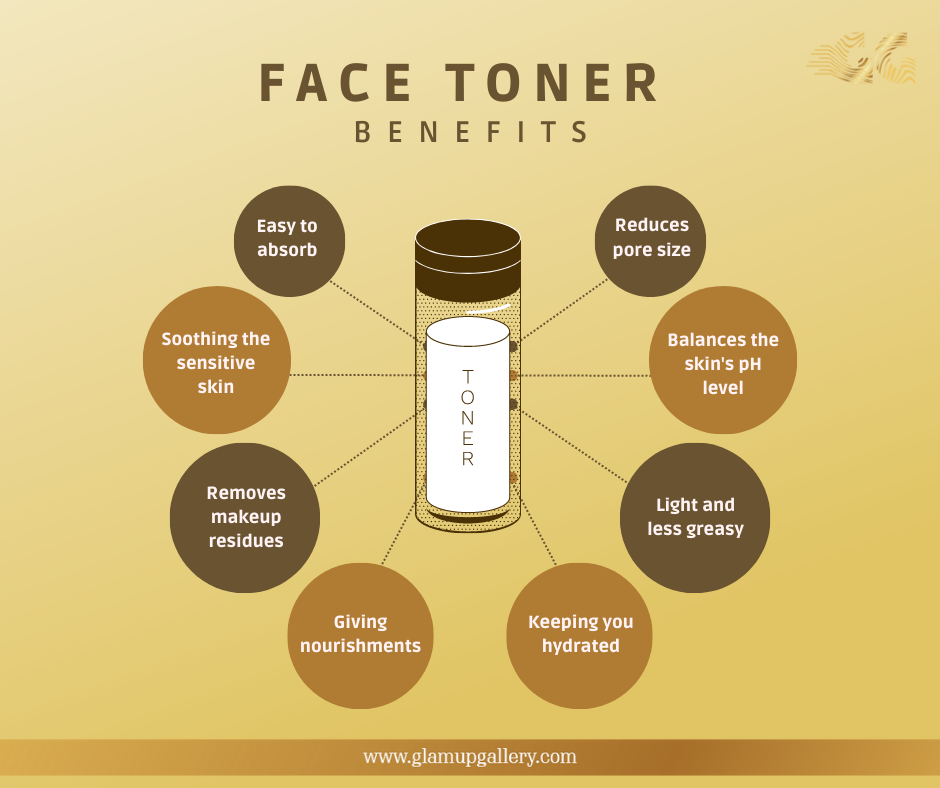 Related Article: An Ultimate Guide on Facial Toner Uses & Benefits
Benefits of Homemade Toner for Face
While there are many types of toners available on the skin care market, they are often expensive and chemically loaded, causing irritation to the skin. Using homemade face toner is a safe, natural, and cost-effective way to care for your skin. DIY toners are not just gentle on the skin but also customized to address your specific skin concerns and suit your skin type.
Let's dive deeper to learn how to make face toner at home – a step-by-step process.
Homemade face toner for sensitive skin
Sensitive skin is prone to itching, redness, acne, inflammation, irritation, and whatnot. Therefore, using a natural face toner, made at home can be the best option for caring for sensitive skin. Since people with sensitive skin are prone to inflammations and irritation, using soothing ingredients like aloe vera, cucumber, etc., can be the best rescue for them.
Aloe vera toner
Right from the garden to your kitchen, aloe vera is packed with antioxidants and anti-inflammatory properties, making it a must-have product for all skin types, particularly sensitive skin. Aloe vera toner helps calm, hydrate, and soothe skin irritation while serving its basic purpose of maintaining pH levels and removing excess dirt.
How to make Aloe vera toner?
Take half a cup of freshly scooped aloe vera gel.
Add it to half a cup of rose water.
Mix it well and pour it into a spray bottle.
Related Article: Discover the Amazing Uses and Benefits of Aloe Vera for Skin, Hair, and Health
Cucumber toner
Another natural ingredient known for its calming and hydrating properties is cucumber. Using cucumber toner for your face twice a day will keep all your sensitive skin concerns at bay.
How to make cucumber toner?
Grate one fresh cucumber
Squeeze out its water
Now add 3-4 tablespoons of fresh aloe gel to it.
You can add a few drops of homemade rose water, also.
Mix them well and transfer the liquid to a sanitized bottle.
Homemade toner for dry skin
Store-bought face toner often contains alkaline or acidic, making dry skin conditions worse. People with dry skin should use natural face toner with mild ingredients like vitamin E and rose to address dry skin concerns.
Rose Toner
Rose is not just an epitome of love but also a powerful ingredient to pamper skin. Known for its calming and hydrating properties, rose petals form a magic potion that has the natural ability to maintain pH level of the skin.
How to make rose water toner?
Take half a cup of homemade rose water.
Add half a cup of witch hazel.
Mix them well and pour them into a bottle for daily use.
Rice water toner
Rice water is an amazing natural ingredient for dull, dry, and tired skin. It helps brighten and whiten complexion as well as reduce the appearance of blemishes. Give rice water toner a place in our daily skin care routine, and it will leave you feeling fresh all day long.
According to a 2018 study, "rise water is a beneficial anti-aging ingredient "biocompatible with the human skin."
Home to make rise water toner?
Soak one cup of clean rice in distilled water.
Keep stirring until the water becomes cloudy.
Strain the water out and pour the liquid into a bottle.
Homemade toner for oily skin
Oily skin produces excessive sebum, making it susceptible to acne and breakouts. To prevent oily skin concerns, use homemade face toner using natural ingredients like tea tree oil, green tea, rose water, etc., that fight acne-causing bacteria and control oil production.
Tea tree oil toner
Oily skin? No worries! Tea tree oil will take care of it! People with oily skin find one thing common in their skin care products, i.e., tea tree oil. Packed with antibacterial properties, tea tree oil not only helps fight acne-causing bacteria but also reduces blemishes, dark spots, and acne scars, making it a must-have for oily skin people.
How to make tee tree oil toner?
Take half a cup of apple cider vinegar.
Mix it with half a cup of distilled water.
Add a few drops of tea tree oil and shake them well.
Transfer the liquid to a spray bottle for regular use.
Green tea toner
Green tea is loaded with anti-inflammatory and antioxidant properties that help lock in the moisture, remove excess oil, and soothe the skin. Also, it helps destroy free radicals and delivers youthful, glowing skin.
How to make green tea toner?
Take a cup of boiled water.
Steep two green tea bags in it for 5-10 minutes.
Let the water cool down, and remove the tea bags from it.
Transfer the liquid to the bottle and refrigerate it for daily use.
There are many DIY toners you can make at home. Choose the ingredients as per your skin type and concerns, and make one at home. Remember to make them in smart quantity and not use them for more than a week.
Some quick tips associated with the best uses of facial toner
Store the toner in a cool and dry place or the refrigerator for the best result.
Use homemade face toner twice a day.
When using homemade face toners, do a patch test first to ensure they don't irritate your skin.
Use the DIY toner within a few weeks to prevent bacterial growth.
If you have dry skin, a natural homemade toner or an alcohol-free toner is the best choice for you.
Conclusion
These are a few of the most common homemade face toner recipes for oily skin, dry skin, and sensitive skin types. Choose the right ingredients-based DIY homemade toner for the face as per your skin type, catering to your specific skin concerns, and see the difference they make in your skin's health and appearance.
Also Read: How to Do Facial at Home: A Step by Step Facial Tutorial