What are the steps of manicure?
How to do manicures at home?
What are the DIY manicure benefits?
Best nail salon near me or best manicure near me?
If your recent Google search appears like this, you have landed at the right place. This self care blog on manicure will definitely help you get a perfect DIY manicure at home, on condition that you have lined up the right manicure tools. No worries if you don't have separate tools to do the steps of manicure, your pedicure tools can work the same way for your hands too. Often manicure-pedicure tools are the same.
List of Manicure-Pedicure Tools:
Here is the list of essential tools you can use to give yourself a manicure and pedicure at home:
Nail cutter
Cotton pads
Nail polish remover
Nail buffer
Cuticle remover or cuticle cream
Cuticle pusher and nipper
Hand moisturizer
A base coat for nails
Nail Paints for nail art
Not let's follow the step-by-step manicure guide to pamper your hands at home as professionals do at a beauty parlor or a nail salon.
Steps of Manicure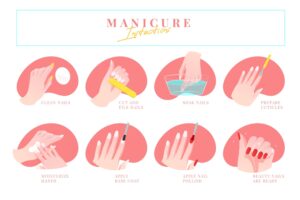 1. Clean Your Nails:
To get a professionally done manicure at home, start it with cleaning your nails with nail polish remover for any nail paint traces, oil, dirt, or bacteria. That means starting by removing pre-applied nail polish. Even if your nails have no coats of nail paints, run a nail wipe over each nail to remove any dirt, oil or bacteria. Once done, wash your hands using a gentle cleanser.
2. Clip And File Your Nails:
Give your nails a good shape by filing and clipping them because a professionally done manicure is incomplete without perfectly shaped nails. Choose your favorite nail shape and file your nails accordingly to get the beautiful nails of your dreams.
3. Soak And Scrub Your Hands:
It's time to exfoliate now! Soak your hands in lukewarm soapy water for 4-5 minutes, then gently scrub themfor any dry and dead skin cells. For exfoliation, you can use any natural store-bought exfoliator or simply make one at home using sugar and baby oil. Exfoliate your hands, wrists and forearms to slough off any dead skin cells and feel fresh. Now, rinse your hands with clean water and pat dry. Your hands will feel like silk and smell fantastic.
4. Soften Your Cuticles:
The next step of manicure is to soften your cuticles by giving them a gentle oil massage for a while. By just rubbing the oil, your cuticles would be soft and nice. After softening, push them back with a cuticle stick. Kill two birds with one stone by using your cuticle tool to clean any dirt stick under your nails.
5. Moisturize Your Hands:
Now, the therapeutic part: MASSAGE! Just because you are not at a nail salon or at a spa, doesn't mean you can't enjoy a relaxation session. Don't deprive yourself of this secret beauty tip when getting a manicure and pedicure. Give yourself a mini hand massage. Get a rich moisturizer and slather it on your hands and cuticles.
6. Apply A Base Nail Coat:
Now, the most awaited step of manicure – NAIL PAINT. Apply a base coat of nail paint to nourish your nails and protect them from any chipping. After the application of the base coat, wait for 2-3 minutes to apply another coat.
7. SwipeThe Second Coat:
Woo-hoo! It is time to apply your favoritecolorof nail paint. To do it professionally as done in a nail salon, start from the centre of the nails and then each side. Try to keep the nail polish layers as thin as possible. It will not only help nail paint dry quickly but also aid in increasing its longevity.
8. Go For The Topcoat:
Finish your DIY manicure steps by applying the topcoat of nail paint. A top nail coat not just adds shine but also smooths away any flaws. It is a complete lifesaver. Just one coat and your manicure will look professionally done and last throughout the week.
9. Final Manicure Step:
Here's the final part – CHILL. Just relax and refrain from doing anything except reclining on the couch and reading your favorite beauty blogs at GlamUp Gallery – Beauty Beyond Boundaries. You deserve it and your professionally done manicure at home too.
When using a nail polish remover, make sure to find one without acetone as it doesn't dry out the skin around nails.
Avoid using coarse or metal nail filers as they are quite harsh and can damage your natural nails. Prefer to use a soft nail filer to prevent splitting or tearing your natural nails.
If you want your nail paint to last longer, give it a clean base by using nail polish remover and nail buffer.
For perfectly prepped nails to start DIY manicure, buffing is essential but don't over-buff because over-buffing can weaken your nails.
Apply Vaseline to the nail corners to achieve the best result of your DIY manicure without any nail paint mess.
Don't skip the base coat as it helps your nail paint look smoother and last longer.
To glam up your nails for that truly mirror-like finish given at a nail salon, follow the process with transparent nail paint.
Go, get a DIY manicure and glam up your nails now!