Makeup is no longer limited to face only. It just got extended to the nails too. And when it comes to nails, summer can be the best time to try the nail art. Summer with its nonstop occasions like beach days, weddings, vacations, outdoor, festivals etc. is the best time of the year to glam up your nails.
Nail Art – Give Wings to Your Creativity:
Nail art is the hottest trend in the beauty industry that has taken the world by storm. Gone are the days when only a manicure, pedicure or henna application along with a couple of nail paint coats used to be enough to adorn someone's nails. Now, the limitation to beautifying one's nails is only one's imagination.
In other words, now nails have been the vast canvas for nail artists to show their creativity in whatever way imaginable along with countless options available. Gel nail art, bridal nail art, acrylic nail art etc. are just to name a few that have taken the fashion industry by storm. You can mix and match your nail designs with your mood, your attire, the season, the occasion and everything. Options are actually limitless. The more you can think, the more you can play around with.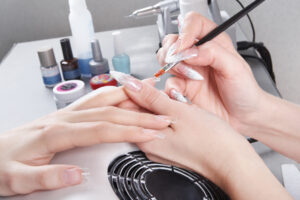 General Rules of Nail Art:
Before you get started with your summer nail art journey, let's get aware of some basic rules to master the skill.
Make sure your hands are clean and oil free before you begin with styling your nails because a clean canvas makes your work stay longer.
Get miser with glue. If you apply excess glue to paste the nail beads, it will squeeze out at the sides and won't dry.
When playing with nail designs, find out what types of artistic nails will best suit your hands. Is it black nail art, flower nail art, marble nail art or any specific nail designs for short nails and long nails? Whatever entices you, just go with it.
Nail Art – Types & Trends:
As said above, nail art is limited to your imagination and artistry skills only, meaning you can try any designs, shapes, textures, or patterns to beautify your nails. The art is limited to the types only you can try to express your creativity. For instance, you can try limitless designs in a single segment of piercing only and likewise. In other words, nail art involves a varied range of alternatives under the following categories:
1 – Acrylic Nails:
Acrylic nails are artificial nail enhancers, done to add length, shine and dimension to natural nails. A nail artist sticks acrylic nails to the natural nails, giving them a longer and shinier appearance. This kind of nail style gives a smooth and polished look to the rough, short and chipped nails. Acrylic nails efficiently hide the flaws of natural nails, giving the wearer a walk of confidence. Artificial nails made of acrylic are a quite easy and affordable way to flaunt beautiful hands in day-to-day life.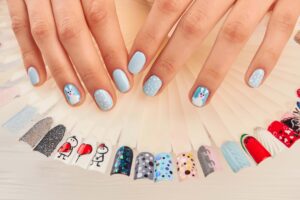 2- Nail Piercing:
Piercing has been the hottest trend of the time. From ears and eyes to nose and navel, people are just crazy about body piercing. And nail piercing is no exception to it. In this nail fashion, similar to body piercing, a nail artist pierces the natural nails of the users and pins a piece of jewellery in it. These nail jewelries are available in the form of small rings, pins, ghungroos etc. However, flaunting ghungroos is a common fad in India at present.
Related Article: The Breathtaking Beauty of Body Piercing
3- Nail Embellishments:
Decorating nails using various types of embellishments is driving people crazy over nail art. These embellishments include but are not limited to glitter, stones, feathers, beads, flowers, stickers etc. This is one of the best types of nail arts for beginners to show their creativity. In this type of nail art, all you need to do is to coat your natural nails with your favourite nail polish and then apply glue to the targeted surface of the nails. Having applied glue, just place your desired decorative materials over the glue to paste them with the nails. Nail embellishments can also be done over plain nails without the combination of nail paints.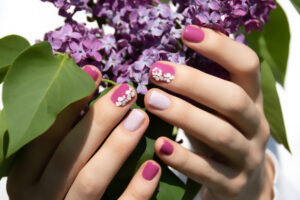 4- Nail Painting:
Typically, nail painting refers to a few coats of your favorite nail polish that you can use to create simple arts like red nail art, white nail art, purple nail art, black nail art and so on. However, today there are an endless variety of designs that you can paint on your nails using different nail polish colors. You can try flowers, leaves, polka dots, stripes, hearts, geometrical shapes etc. to flaunt your beautiful nails. However, the process of nail painting involves so much attention to detail. Hence, it is good to get it done by a professional nail artist when trying for a special occasion.
Alternatively, you can try digital nail painting also, which is the latest innovation in the nail art industry. Under this category, you can imagine any designs and scan the same into a computer to get the reproduction of the same printed on your nails.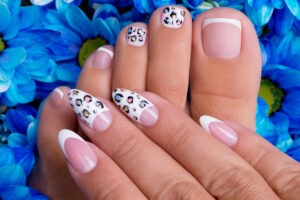 5- Gel Nails:
Gel nails have become a modern beauty mainstay. There is a reason why gel manis create a fashion statement: It is impossibly glossy, virtually indestructible, mesmerizingly natural and available at every nail salon near you. A gel manicure or gel nails is one of the most popular nail arts that uses a gel-based polish and UV or LED light to cure it. Once done, it locks the polish onto your nails not for days but weeks.
The most appealing aspect of a gel mani? Where regular nail paints tend to chip just after a couple of days, gel polish stays chip free for weeks. Also, zero risk of chipping your nail paint the moment you ransack your handbag to find your wallet, phone and so on.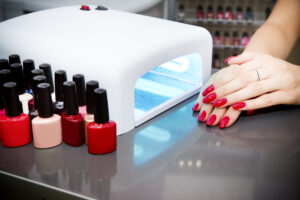 So, why wait? This summer, try these different nail art designs and be your own nail artist.
Liked this blog? Share it with your peers to groom and glam up the world around you.