Body piercing is truly a thrilling experience. Make this experience enjoyable with my enlightening guide on body piercing. Even if your piercer would give you enough information in the piercing studio, getting the right piercing facts in advance is always a wise choice.
Here, I've compiled all the essential info about body piercing to help you get going in your piercing pleasure. By knowing what body piercing is and what to put in your body, you may stay safe from unwanted problems. The more you know, the better it is.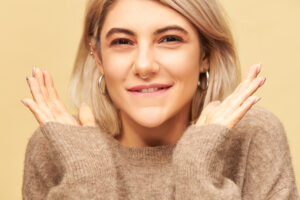 Body Piercing – A Painful Pleasure!
Body piercing is really a heart-stirring yet heavenly experience of life. Like the axiom, "one person's trash is another person's treasure", it also proves factual that "one person's pain is another person's pleasure." Moreover, every piercing experience may vary, depending on the pierced body parts, piercer's skill, your mood and obviously your level of piercing comfort.
Why Body Piercing?
People are terrifically warmhearted of piercing for manifold reasons. Some do it for fashion or aesthetic purposes while some do it as they take pleasure in the intensity of the moment; some do it to designate societal standing while some accentuate their elite lifestyle; some do for a lifetime experience and some do it just to stimulate physical sensation. Regardless of the reasons, your eventual step is the sanitary piercing booth.
Lots of peeps, from your grandma to Hollywood celebrities, may have some sort of body piercings. But it doesn't mean you should jog right out to the piercing studio near you and get piercing! Hey, don't be mystified, I am here to fill you in on the nitty-gritty of body piercing.
What Body Piercings Should I Get?
It could be your nose, belly button, ears, eyebrows, lip, tongue or any other part of your body. But before getting one, you must put your detective skills to sincere use. Finding a safe, hygienic, professional and sanitary piercing booth is really, totally, very, extremely indispensable – I can't stress that enough!
What Is The Healing Time  Of Body Piercing?
Healing times vary depending on the pierced body part. Regardless of the pierced part, don't sleep on your piercing. Also, never turn a blind eye to remove the jewellery until it's utterly healed.
                               Tongue Piercing – 4-6 weeks for healing.
                               Nose Piercing – 3-6 months for healing.
                               Eyebrow Piercing– 6-8 weeks for healing.
                               Ear lobe Piercing – 6-8 weeks for healing.
                               Lip Piercing– 3-4 months for healing.
                               Ear Cartilage Piercing– 4-12 months for healing.
                               Navel Piercing– 6-12 months for healing.
The piercing may be sore and swollen for several days. So, make sure to take good care of it else it can lead to viral infections and can get contaminated. Ooze not-so-cool stuff and leave you with not-so-pretty and scary scars.
Over time, as your piercing heals, it will become a more comfy and innate part of your body. Once the pierced part is fully healed, you are ready to flaunt your style. Adorne the beauty of your body part with stunning pieces of body jewellery and go on.
Which Body Piercing Material Is Good?
Getting the right piercing jewellery is imperative. Therefore, before you head out to the piercing studio near you, make sure which piercing material is good for you. There are numerous piercing material choices available like acrylic, titanium, titanium plating, golden plating, organic materials, 316L surgical steel etc. However, 316L surgical steel (marine grade stainless) is the most standard choice. It is the most preferred and perfect piercing material for people with fully healed pierced parts provided that they don't have a nickel allergy.
Depending on the type of your piercing, you need to make sure you wear the right size and right material of body jewellery.  Getting the incorrect jewellery may result in needless complications.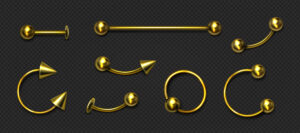 Where To Buy Body Body Piercing Jewellery?
There are endless styles of beautiful jewellery available online and in the market near you. All you need to do is to explore the online piercing stores or/and your local jewellery shop. Pick the one you like the most and wear the same on your pierced body parts. Sexy and sensational body piercing is so hot and mesmerizing of late. It is irresistible not to get hooked on that mania. If you have a craze of fashion favouritism, you would admit the veracity that it's just next to impossible not to throw in the towel to pamper your body with more and more dazzling pieces of body jewellery to show off those oh so sexy crevices and curves! So, start racking up a high bill in terms of splurging on these gorgeous trinkets and stop limiting your vision. Give them the treat to fly high!
Feminine Fashion Fiesta!
Body piercing proffers an eye-catching feminine look. Hence, all the fashion precautious gals and guys love this trend. Although the piercing process is pretty painful and serious ramifications may result but nothing resists today's youth from floating in this conventional yet hottest piercing trend!