Winter is here with a bang of the Indian wedding festivities. You drape your designer net saree, apply flawless wedding makeup, put on exclusive pieces of jewellery, wear those classy pair of strappy golden sandals, and get all dolled up. You are all set to flaunt your sexy curves and breathless beauty. Then suddenly, you realize it is icy cold outside, and you are sort of a winter wedding outfit inspiration.
What to do now?
What to wear at Indian winter weddings?
Which winter wedding guest dresses will be your style savior now?
How to stay warm without compromising your style game?
Hey, are you thinking of pairing your designer saree with a cape jacket or a woolen shawl?
Wait!
Don't let a bulky winter garb ruin your entire effort of transcending everyone with your glamour. Grab my winter wedding outfit inspirations to dress up like a diva this season.
Imitate Your Favourite Bollywood Stars:
If you can afford to wear like Bollywood celebs, don't wait and head over to their Instagram handles. They master the fashion world and have a better dressing sense for every occasion. You can imitate their winter wedding outfit styles and look your best.
You can wear a sharara outfit like Priyanka Chopda, a velvet shalwar suit with net dupattas like Deepika Padukone or an Anarkali Suit like Anushka Sharma. Embellish your attire with matching earrings, bangles and Khussas (Mojri). Finish off your look with a sleek hairstyle for that absolute Bollywood bit.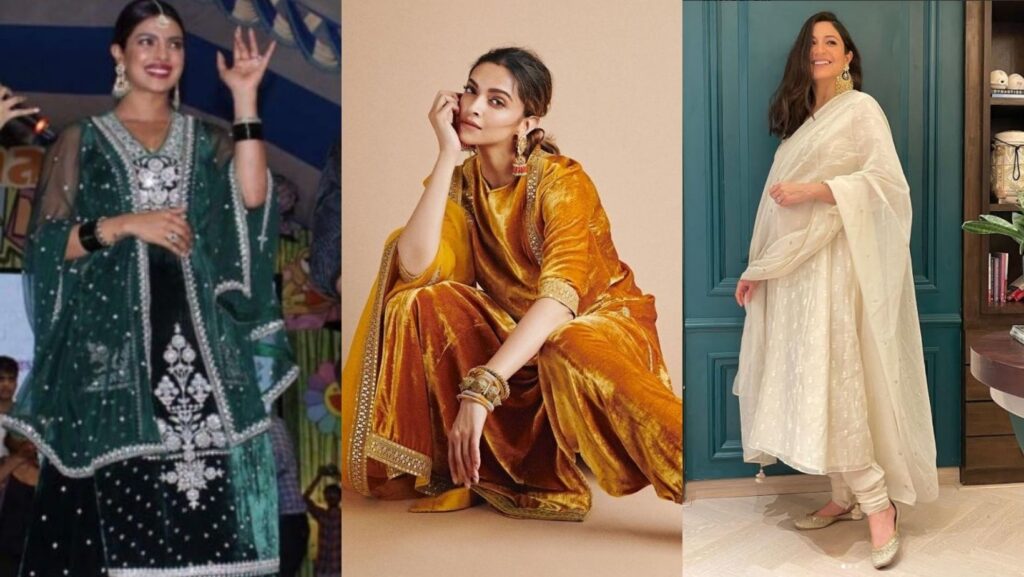 Saree Is A Forever Fashion:
An Indian wedding without a saree is a big no. Saree is a forever love in an Indian wedding, and when draped rightly, it helps you do both to beat the chilly temperatures and look glamorous. For further styling, you can try pairing your saree with a full sleeve velvet blouse and a pashmina shawl of contrasting colour.
Pro Tip: Try to pick sarees in dark blue, violet and black colours. These colours will add a rich and royal look to your overall individuality.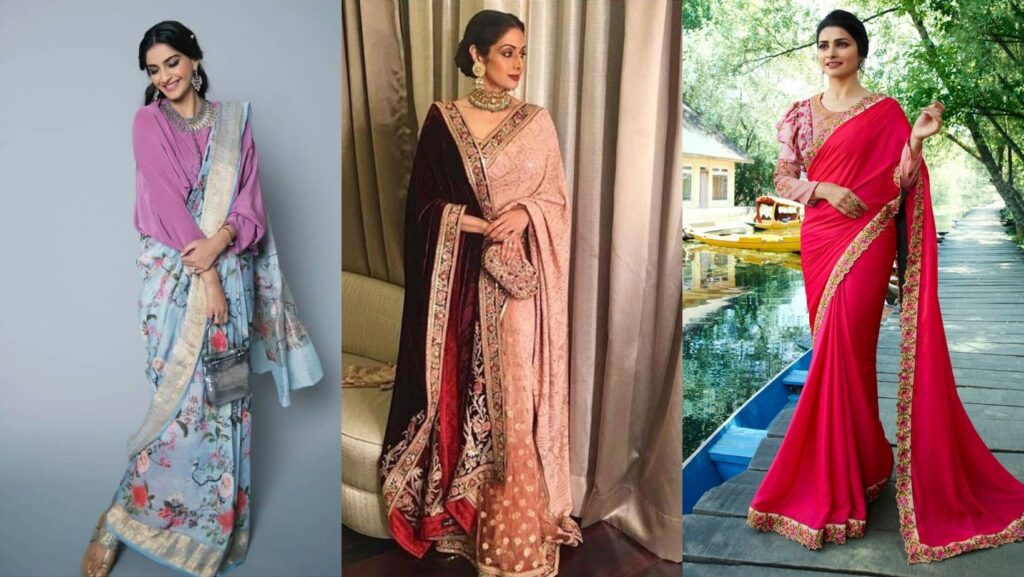 Phulkari Is Phenomenal:
If you want to slay in style without losing your Indian essence, do give a try to Phulkari outfits. It will add a dash of vibrancy to your entire look and redesign your personality. With the limitless choices of colours, designs, and patterns, phulkari will give you an edge over everyone in the winter wedding hall. It is an excellent winter wedding outfit idea for teens and young girls. Try a Phulkari outfit this winter, and thank me later.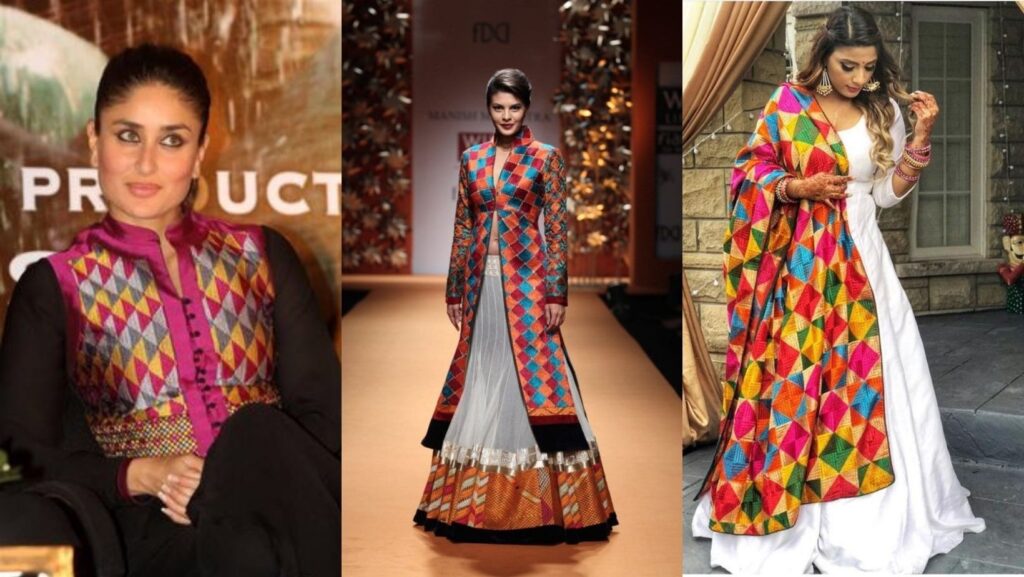 Velvet Is In Vogue:
Velvet is a fairly rich fabric. You can never go wrong with velvet in an Indian winter wedding. Velvet is a quick fix for slaying both the chilly weather and the fashion quotient. The soft fabric exudes a luxurious vibe and adds an extra layer of elegance to your persona that is hard to find with any other material. No matter you dress up a velvet salwar kameez, drape a velvet saree, style a head to toe velvet gown or don any other velvet attire, your look will be on point. So even if your winter dresses for a wedding are simple, you will feel warm and look royal.
You can mix and match your velvet outfits with a heavily embellished silk shawl or banarasi dupatta. And you are good to go, gorgeous!
Also Read: 5 Best dress ideas for men & women to glam up the look this festive season 2022-2023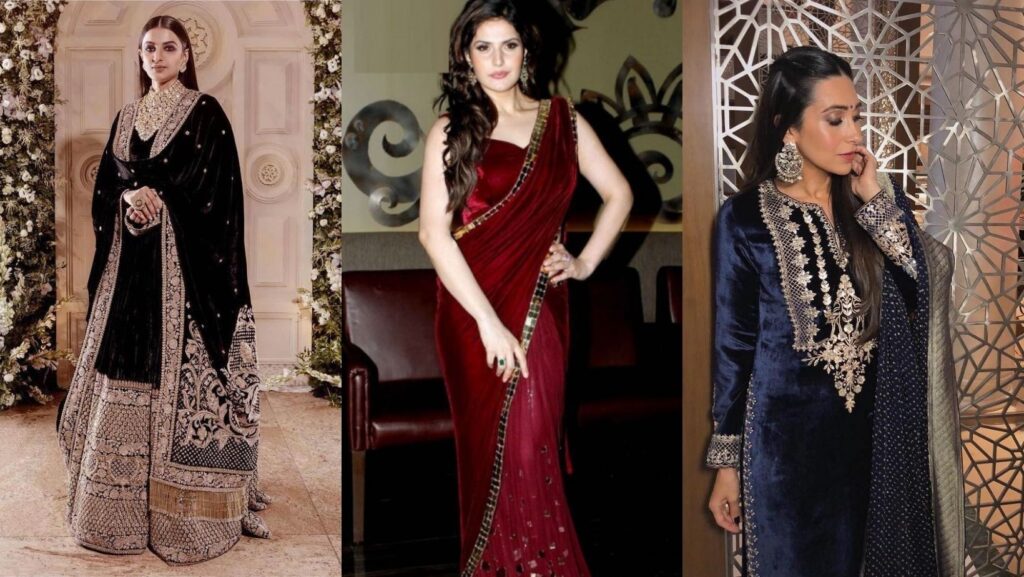 Layer Up Your Winter Wedding Outfits:
Be your own fashion designer by pairing your wedding outfit with an overlayer style. It doesn't mean you randomly grab a jacket or scarf and wear them. Layer up like the way it may complement your dress.
Wrap an embroidered shawl as a dupatta, take a pashmina shawl for a double drape saree look or grab a cape shawl to don with a lehenga. Go for a heavily embroidered silk shawl to wear with plain salwar kameez for an elegant ethnic look. Alternatively, you can try to crop an embellished jacket as a saree blouse or a cosy waistcoat over a salwar suit. A printed shrug or a leather trench coat will help accentuate your ethnic attire and keep you warm as well. Also, you can style a long sleeves jacket or an overcoat with your Indian clothing. This Indo Western style is a must-try this winter wedding season.
Layering up traditional outfits with an embellished jacket is a new trend. So, level up your style game with this hottest trend.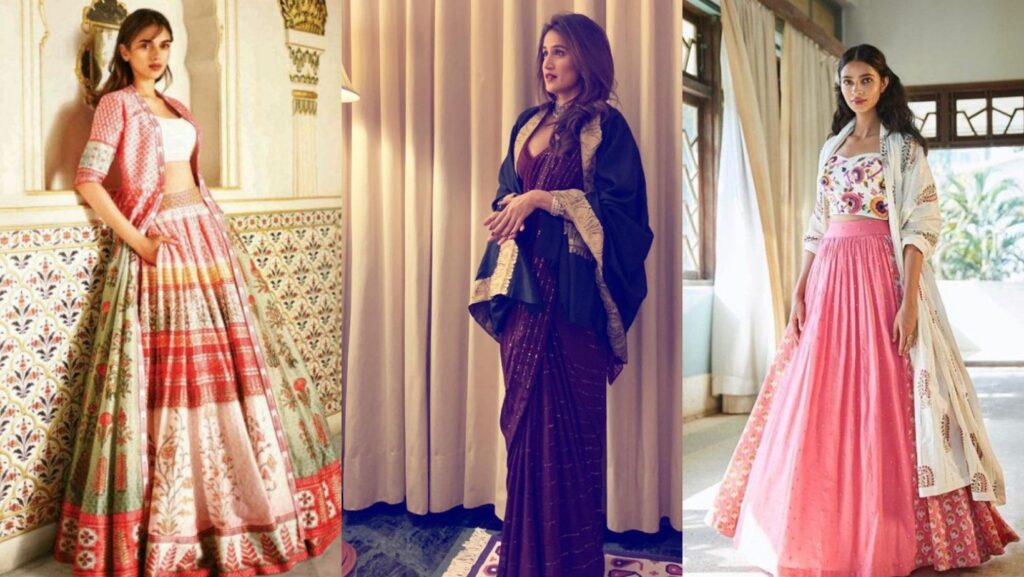 Teenagers Trend:
When it comes to wedding prep, teenagers are often ignored. Whatever their parents hand over them, these young girls wear. Parents don't notice it during the wedding hustle, but they feel embarrassed for their little dolls when they see the wedding pictures. So, while shopping for winter wedding outfits this season, don't ignore your teenage girls. Make sure their garb is trending, well-fitted and accessorized properly. Tunics, short shirts, maxis, and lehengas paired with leather jackets would be an ideal choice for them. Keep the accessories, makeup, hairstyle and overall look low-key.
You may like reading: How To Dress Simple But Stylish Strategies for Beginners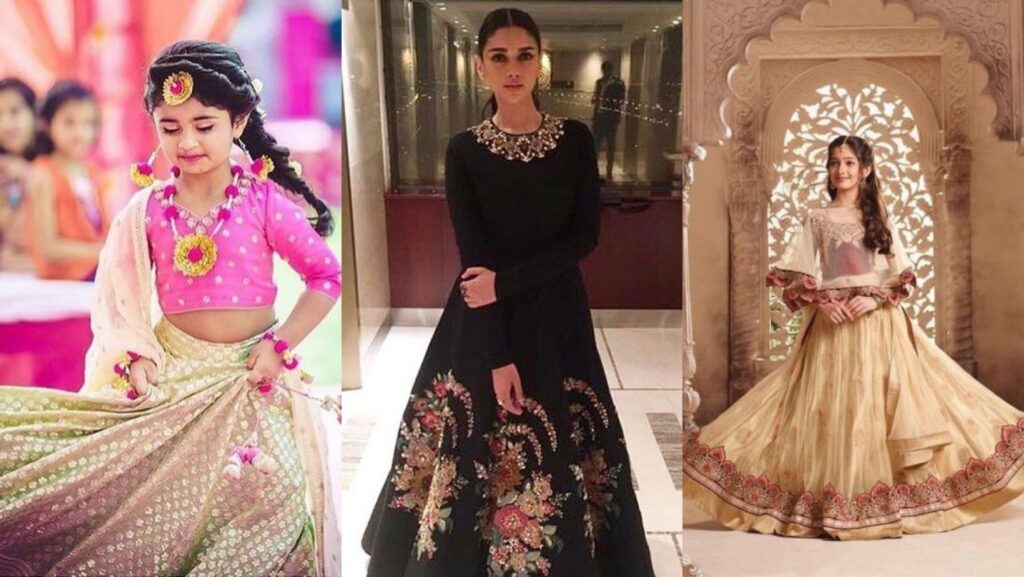 Winter Bridal Outfits:
It is your big day. Being a bride, you have a lot to pick and choose. You can shop for anything you want to wear. But keeping your health, look and comfort in mind, I advise you to invest in a velvet lehenga, an embellished blouse and a heavily embroidered dupatta. Velvet and Silk or Velvet and Banarasi are great combos to try this winter. Go for these luxurious materials in royal tones and get your groom to fall in love with your first impression.
Kaftan Is Quite The Rage:
A Kaftan is a kind of floor-length tunic or a robe signifying different cultures across the globe. This multi-cultural attire is on the top of most trending winter wedding outfits gaining momentum in the fashion world. You can pair them with a maxi dress or an Anarkali suit. Embellished Kaftans are the best choice for all women who want to look both warm and elegant.
Wow With Western Style:
How about trying a western-style at an Indian wedding? Believe me! It is an attention-grabbing outfit inspiration. Glam up your look and grace the wedding hall with a floor-length gown. Accessorize it with stylish pieces of jewellery, high heels and light makeup. You are all set, beautiful!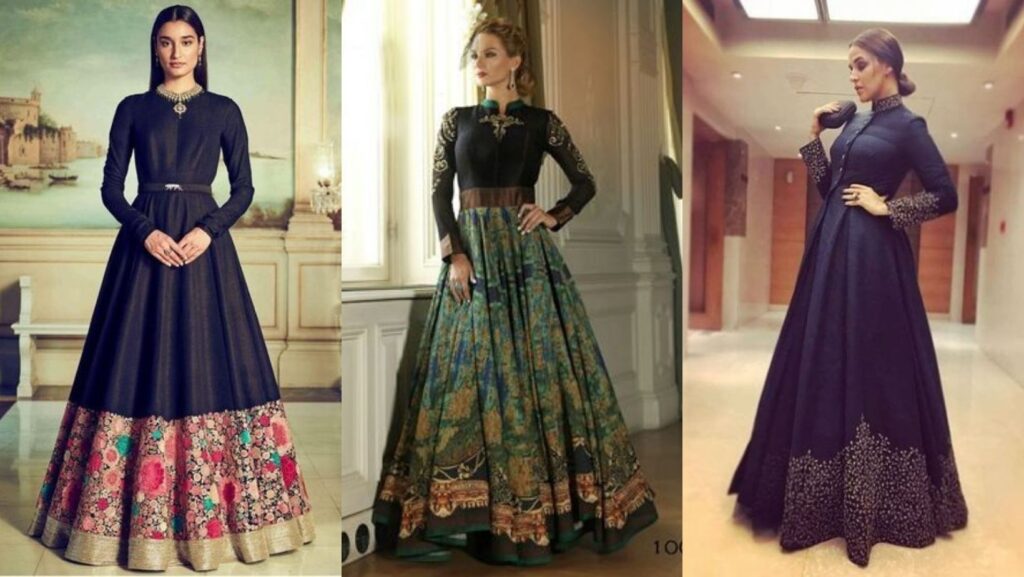 Set A Statement With Sharara Style:
If there is a thing that will never be obsolete, it is surely 'Sharara style'. So, this wedding season, give a big hug to shararas. They are very elegant and not so revealing, thus, keep you warm and cosy.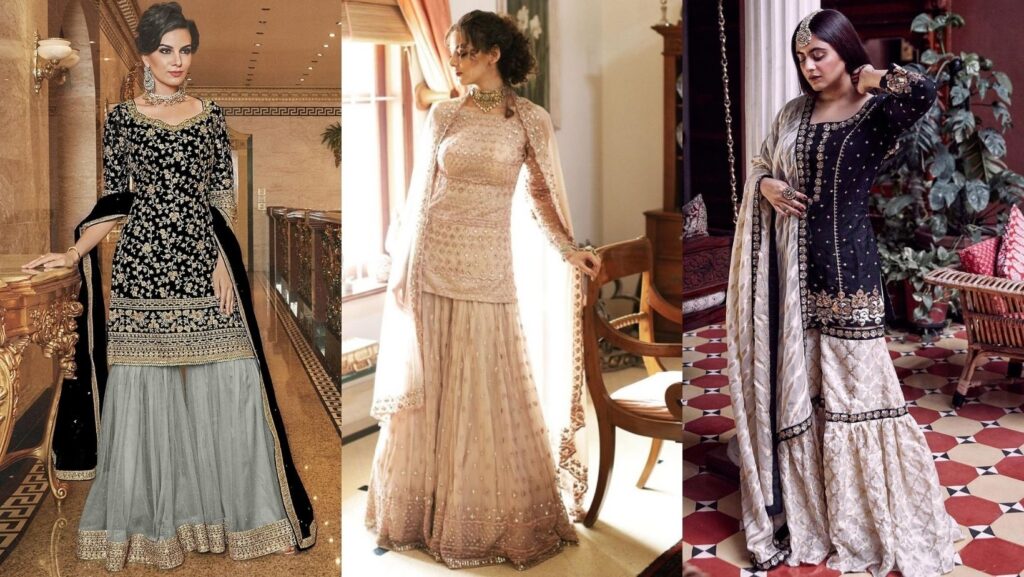 Lavish Lehenga Love:
Lehenga is a forever fashion. A lehenga choli can never go wrong in an Indian winter wedding. From teens to 40+, everyone can slip into this everlasting ethnic trend. If you are a bridesmaid, family or a close friend to a would-be bride or groom, a lehenga is a must trousseau for you. Pair up your lehenga with full-sleeved blouses to stay warm and cosy during chilly weather. Also, you can switch your dupatta and blouse to an embellished jacket. Doll up your lehenga choli like this and be ready to steal hearts at winter weddings.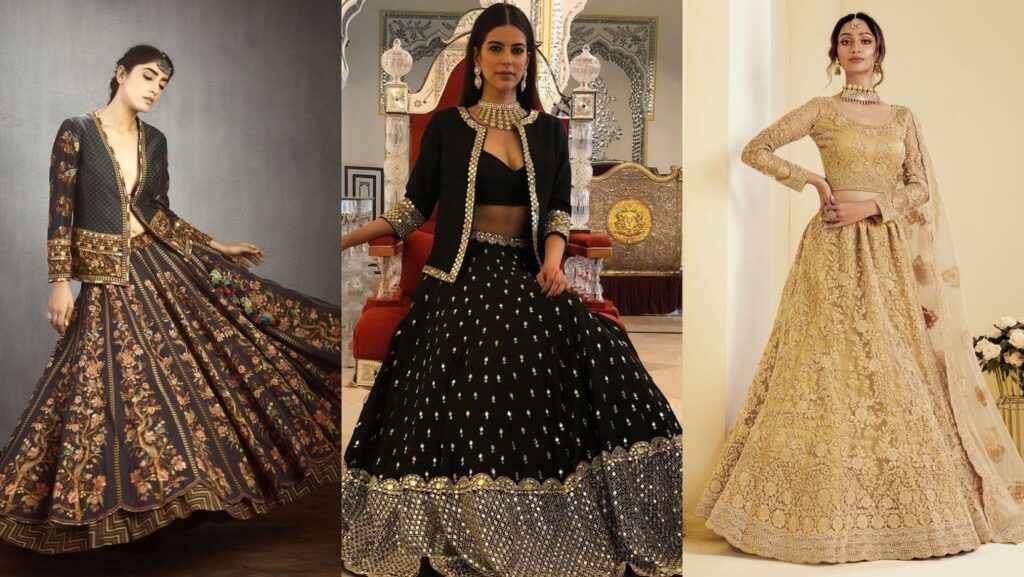 Guest Gaga:
If you are just a guest in a wedding or attending a marriage of someone who is not so close to you, go for the less embroidered and dark coloured outfits. A short kurta with sharara or a Patiala suit paired with Jhumkas and a simple hairstyle can be all enough for you to grab the attraction. You need not look like a diva at the marriage of someone you hardly know.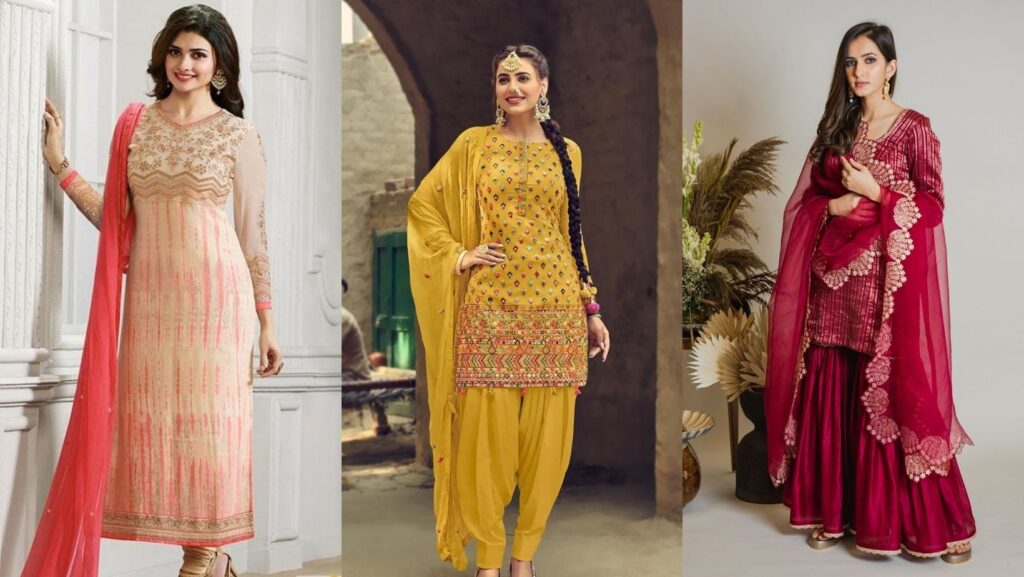 Do's And Don'ts For Dressing Up In Indian Winter Weddings.
Never compromise on the point of your comfort! Dress up the warm yet stylish and trendy attire. Velvet sarees, shawls, embellished jackets, and overcoats can be the saviors for winter dress inweddings.
Shawls are in trend these days. Do not hesitate to style them with your sarees, lehengas, salwar kameez or even with a long dress. It looks chic and classy.
Go for the double dupatta style for added warmth. Wrap an embroidered shawl on one shoulder and your dress dupatta on the other shoulder or around the neck.
Say 'No' to high heels and strappy sandals. Instead, slip into stilettos, Khussas, and pumps.
Prefer to put on full-sleeve outfits or a short embroidered jacket over your half sleeve attires.
When searching for a winter dress wedding, opt for multi-layered, floor-length outfits as they look exclusive and keep you warm.
Bold and dark colours like black, violet, deep green, royal blue etc. are winter favourites. Thus, make you look stunning and elevate your style game.
Express yourself through your hairstyle, accessories and makeup. Try smokey eye makeup, red or violet lip colour and a cute hairstyle.
Go easy on bangles and necklaces. Wear heavy Jhumkas and exquisite bracelets.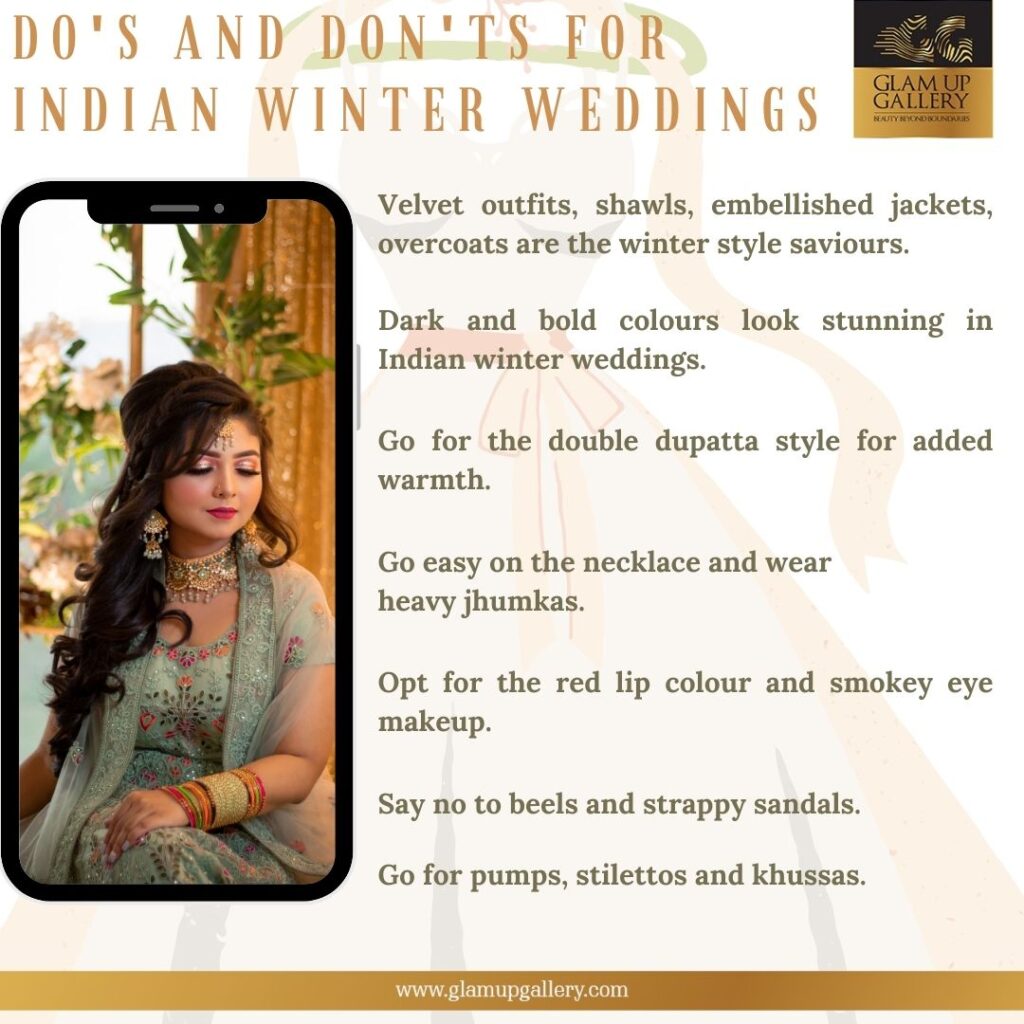 So, girls, next time you attend an Indian marriage in chilly weather, try these winter wedding outfit ideas to look glamorous and keep yourself warm.
Also Read: 8 Best Beauty tips for wedding, party and festive season 2022-2023