There has been a complete craze of BB Cream and CC cream in the Korean beauty regimen for years and now it has mightily crept into the whole world.  These creams have been the hottest trends in the beauty industry aimed to deliver a radiant glow to men and women across the globe. However, picking one out of these two top-class creams can be rather confusing as people get a bit perplexed about what is the real difference between BB cream and CC cream, and which one would be the better choice for them.
Worry not! This blog will clarify all your confusion related to both the available choices and help you make a better choice. Before I talk about the differences between BB and CC creams, let's first understand what are the similarities between both options.
What are the Similarities between BB Cream and CC Cream?
Typically, BB cream and CC cream are multitasking makeup products and provide full coverage whilst protecting your skin from harmful UVA rays. You can find color correcting, anti-aging, skincare, and makeup formulas in a single product. Both these types of skin care products are most likely, the best creams for men and women alike to get full to lighter coverage.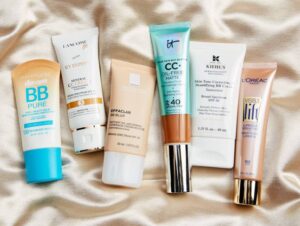 Basic Benefits of BB and CC Creams
They are the ideal choice for acne-prone skin as they let your skin breathe.
They are the tinted moisturizer that keeps your skin hydrated too.
The creams are the best choice to add to your daily skincare routine as they conceal blemishes and enlarged pores while controlling the other minor problems of the skin.
This wonderful category of cosmetic products, used in Korean skin care routines, also adds a light touch of color.
The products also plump and bestow/ your skin with the properties of anti-aging ingredients.
They help cover dark spots.
Still, struggling to know the BB cream benefits and CC cream benefits that they proffer to your skin and want to know when to use these magical beauty products? Go on reading; all your queries would be resolved here.
What are the Uses of BB Cream and CC cream?
Depending on the ingredients and your skin type, you can use them as:
Primer
Concealer
Moisturizer
Sunscreen
Mattifying product
Foundation
Highlighter
Skincare
In short, you can simplify your morning routine by just using a single product. Both will help you save money, time and effort spent on skin treatment.
Also Read: Summer Skin Care Routine – A Complete Skincare Guide
Difference between BB Cream and CC Cream
BB cream (Beauty Balm) and CC cream (Color Correcting) are both types of multifunctional makeup products that offer coverage, skincare benefits, and sun protection. However, there are a few key differences between BB cream and CC cream. Let's understand in detail the key differences between the two to find the best choice for your skin type with ease.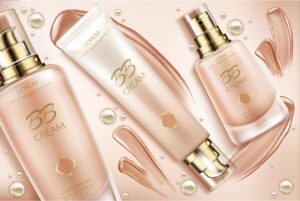 What is BB Cream?
What is CC Cream?

The initials "BB" stands for "beauty balm" or "blemish balm". They are multitaskers. You can expect to have a non-brightening primer, moisturizer, light foundation, and the traits of sunscreen in this one product. It is also packed with anti-aging properties.

The initials "CC" stands for "color and care" or "color and correct". This skincare cream contains the powerful ingredients of a skin-brightening primer, moisturizer, light foundation, anti-aging products, and sunscreen. They are good collagen boosters too.

BB cream is a tinted moisturizer that provides coverage and hydration while also offering benefits such as SPF protection, anti-aging properties, and a smoother complexion. It typically has a lighter coverage than foundation, making it perfect for everyday wear.

CC cream, on the other hand, is designed to correct color imperfections and even out skin tone. It contains light-diffusing particles that help to blur fine lines and imperfections. CC cream also provides sun protection and some hydration, but it has a more medium to full coverage than BB cream.

The BB cream tends to be a bit heavier and specifically better for dry skin, with a key concentration on prevention and maintenance.

The CC cream tends to be a tad lighter and specifically formulated to target

acne-prone skin

with a key focus on concealing existing issues. CC cream provides more coverage and matte finish as compared to BB cream.
Benefits of BB Cream and CC Cream
Now that you know what is BB cream and CC cream, it's time to discover some of the best benefits of both the available choices. Understanding the benefits of BB cream and CC cream is essential to understand the differences between both options because it helps you make an informed decision about which product is right for you to achieve the desired effect on your skin.
For instance, if you're looking for a lightweight, natural-looking coverage with some skincare benefits, then BB cream may be the right choice for you. On the other hand, if you have discoloration or uneven skin tone, and you want a more medium to full coverage with color-correcting properties, then CC cream would be the better option to help you achieve the desired look and improve the overall health of your skin.
Let's explore the benefits of BB cream and CC cream through a quick chart.
Benefits of BB Cream

Benefits of CC Cream

It is a multitasking

makeup and skincare

product that offers sheer coverage. BB cream is the best choice for "no makeup" makeup looks.

It mainly helps to correct discoloration like redness, dullness, uneven skin tone, hyperpigmentation (brown spots), acne scarring, dark circles, and so on.

The cream has ingredients that are often used in skin treatment.

Typically, CC cream is filled with anti-aging properties.

It helps conceal minor imperfections and blemishes.

It blurs wrinkles, fine lines, scars, and age spots.
BB Cream vs. CC Cream – What is better for your skin?
When to Use BB Cream?
Looking for a day-to-day foundation with a lighter feel.
Want a natural look with sheer coverage.
Have acne-prone skin.
Owns dry skin.
When to Use CC Cream?
Have oily skin.
Looking to get a 'no-makeup makeup look.
Want a matte look with high coverage.
Have acne-prone skin.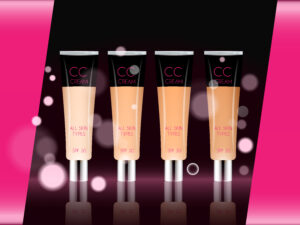 How does BB Cream and CC Cream Differ from the Foundation?
Foundation is a makeup product used as a colour corrector and even out skin tone. Generally, foundation lacks skincare ingredients, hence, it can't be used as a multitasking product. Also, the foundation tends to be heavier and gives more coverage as compared to BB cream and CC cream.
Related Article: 5 Tips For Buying The Best Makeup Foundation For You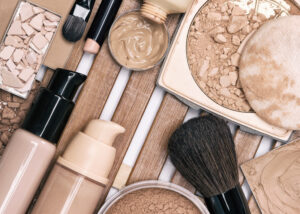 Foundation is available in many forms in the market:
Liquid
Pressed powder
Loose powder
Cream
Solid stick
Mousse
Best Cream for My Skin
Be it BB creams or CC creams, both these magical formulas are hot in the beauty industry and a pumped-up version of tinted moisturizers with a plethora of benefits. They are the most preferred and highly rated products considered to be the beauty secrets of Korean women.
Also, they are a quick fix to give my skin a good boost. Be it a family get-together, casual outing, office culture, or a workout, I apply CC cream, skip powder, and just sweep on a lip balm and a little kajal, and I'm out the door.
How to Apply BB Cream and CC Cream?
Cleanse your face.
Take a small amount of cream.
Spread it all over the face and neck.
Pay attention to areas you need to conceal.
Use a foundation brush, a clean beauty blender, or your fingers to blend the cream into your skin.
For more coverage, you can use foundation or repeat the process to get the desired result.
Also, you can use an additional SPF product if you need to stay in sun for a longer period.
The Boom of BB and CC Creams in the Beauty Industry
Both BB creams and CC creams are good to go for. If you want to streamline your beauty routine while saving vanity space and money, giving your skin the boost of any of these magical makeup products be the best choice for you. However, when choosing one of them, it is vital to know the key differences between BB cream and CC cream while keeping in mind what is your skin type, what are your expectations and what is your purpose to use the product.
Stay Beautiful!
You May Like Exploring: How To Apply Makeup – A Step By Step Guide