From getting lost at the beauty store to the seamless makeup application, every makeup artist was once a beginner. Even if you are perplexed about the process of how to apply makeup, there are no pre-set makeup rules. No matter if you do your eyes before lips or after lips, it is the precise makeup application that makes the difference.
However, there are some basic beauty techniques and makeup tips that help level up your makeup game. Applying your makeup products in the right amount and in the right way do two things – firstly, it helps you get the best out of your beauty, and secondly aids you to achieve the makeup of your dream.
Related Article: Best makeup products for beginners in 2022
Here, beauty blogger Manjari is sharing some secret skin care and beauty tips to help you do makeup like a pro. Follow this step-by-step makeup guide on how to apply makeup step by step to achieve a lasting makeup look and flawless skin
How to do step by step makeup tutorial for beginners:
1. Moisturizer:
Whether you have oily, dry, combination, or normal skin, don't skip moisturizer. It is a must-have skin care product for all skin types. It is imperative to add a moisturizer to your daily skin care routine. Moisturizer helps hydrate and nourish the skin. Also, it preps the skin for further makeup application. Make sure to use toner and serum before applying moisturizer and sunscreen to get a youthful glow.
We recommend Neutriderm Moisturising Lotion for its amazing hydrating and anti aging properties. Add it to your daily skincare routine, and you will experience a noticeable difference soon. Bioderma Moisturizer comes separately for oily skin and dry skin. Make sure to buy one as per your skin type.
How to apply moisturizer?
Take a liberal amount of moisturizer on your palm.
Rub it to your face in circular waves using upward and outward strokes.
2. Primer:
Now that you have moisturized your skin, it's time to prep it with primer. Whether you intend a full glam look for carnival or just basic makeup for dining out, primer is an essential beauty product. Wearing primer as a base coat will make your makeup last longer.
You can give a try to MILANI Skin Quench Hydrating Face Primer. Its unique skin concealing and hydrating technology allow you to get a smoother look while hiding acne scars, fine lines, blemishes, and other skin imperfections.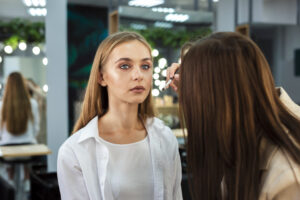 How to apply makeup primer?
Take a dime-sized of primer onto a beauty blender, your fingertips, or a makeup brush.
Start applying it from your face center, and gradually move towards your cheeks, chin, and forehead.
Now, blend it gently all across your face.
3. Foundation:
The answer to how to do makeup is incomplete without adding foundation to the makeup list. However, when it comes to creating a flawless finish with a beauty foundation, finding the right shade for your skin can make all the difference. So, how do you find your perfect match? Not sure? Worry not! Test a bit of foundation against your jawline and don't blend it. If the foundation disappears, congrats, you've found your right match.
Be sure to choose a foundation that works well for your skin type. For instance, use Maybelline Fit Me Matte+Poreless Liquid Foundation for oily skin, and try FACES CANADA UltimePro Second Skin Foundation for dry skin.
How to apply foundation?
Take an adequate amount of foundation on your fingertips and dab it all over your face.
Now, starting from the center of your face, blend it outwards using a beauty blender, makeup brush, or a makeup applicator.
You can use a damp sponge to make sure your foundation gets into those creases and lines. It will create an even texture and a smoother look.
Follow your foundation base with Lakme 9to5 Flawless Matte Complexion Compact to mattify your makeup look and set the foundation in place.
4. Concealer:
The next beauty product in the step by step makeup guide is concealer. Apply a little amount of Maybelline New York Fit Me Concealer below your eyes and on the skin imperfections to even out your face. From acne scars to pimples and from blemishes to dark circles, there are no skin stigmas that this makeup product can't camouflage. The concealer comes in two main categories: liquid and stick.
The liquid formula is great for light coverage and light finish, especially around the areas of the mouth and eyes where wrinkles sit. Compact or stick is best for heavier coverage.
How to apply concealer?
Just like foundation and primer, you can use a beauty blender, makeup brush, or simply your fingers to apply concealer.
Take a little amount of concealer and apply it to the dark circles, blemishes, pimples, acne scars, red spots, and other problem areas you want to hide.
Gently blend the formula.
Let it set before moving ahead with the other makeup products.
We would recommend MENOW Sculpt Corrector & Concealer. With a palette of 10 hues, not getting your perfect match is impossible.
5. Bronzer:
Wondering how to apply makeup like a pro and get that mesmerizing matte finish? Worry not! Here is the secret! Use SUGAR Cosmetics – Contour De Force – Face Palette. This face makeup palette of highlighter, bronzer, and blush powder is a super versatile beauty product. You can use it to mattify your base, add a dash of color to the cheeks, contour your face and get that sun-kissed glow.
Make sure to choose the right shade of bronzer for your skin. Don't pick the one that is too deep for your skin tone. Choose one that's two shades darker than your skin.
How to apply bronzer?
When looking to contour your face with bronzer, swipe the bronzer brush to the area where the sun naturally tans your face.
Sweep a golden tan across the bridge of your nose, hairline, jawline, and the apple of your cheeks.
6. Blush:
Blushing cheeks have been an attention grabber for centuries. So, if you want to add vibrancy to your complexion and an extra dimension to your face with MAC Cosmetics. Add a pop of color with M.A.C Powder Blush.
How to apply blush?
Dab the blush on the apple of cheeks and sweep towards the hairline in a teardrop shape.
This blush application technique works well with all types of formula – cream, liquid, gel, and powder blush.
Use a dense makeup brush to apply your blush to get the most out of this beauty product.
7. Highlighter:
Honestly, no makeup is complete without a highlighter. Whether you are opting for some bold and beautiful look or want a natural and radiant finish, a highlighter adds a dash of glam and glow to every makeup look.
The highlighter comes in three main categories – creams, liquids, and powders. You can choose any of these types as per your preference.
How to apply highlighter?
Swipe out SWISS BEAUTY Drop & Glow Liquid Highlighter Illuminatorto the areas where you want to draw attention. It can be the bridges of the nose, cheekbones, brow bones, inner corners of eyelids, on Cupid's bow, the center of the forehead and chin, and even clavicles.
Once you have applied highlighter to the desired areas, blend it out using a makeup sponge, beauty blender, or simply with your fingertips.
To maximize the effect, end the application with bronzer or highlighter powder.
8. Eyeshadow:
Now, you have prepped a flawless canvas with your face makeup products. It is time to do your eye makeup. We can't emphasize more how important an eyeshadow palette is to have in your makeup box. Invest in Makeup Revolution Reloaded Combo II, Multicolor, as it contains almost all the shades you need to add drama to your eyes.
It helps not only to accentuate your eyes but also add dimension to your overall makeup look. Do it right, and you will mesmerize the mass each time you blink. Whether you are going for a bold look or opting for a natural appearance, grab two of its shades – one lighter and one darker, and you'll spellbind the peeps. Use dry eyeshadow for natural gaze or try it wet to create some eye drama; this is not disappointing.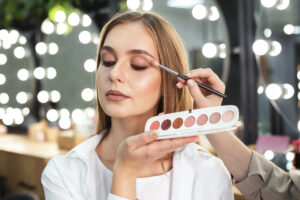 How to apply eyeshadow?
Apply lighter shade across the eyelid, beginning from the lash line and ending just above the eyelid crease.
Now, create a definition by sweeping the darker shade across the crease of your eyelid.
Take a clean makeup brush to blend both the eyeshadow shades.
What about the inner corner of the eyes? Sweep shimmer to the eyes corner to make them look bigger and bright.
9. Eyeliner:
Prepped the base? The next eye makeup product is eyeliner. There are two kinds of makeup lovers – one who can't live without eyeliner and one who swipes it at special occasions only. Whatever category you fall in, you should know the art of applying eyeliner. The eyeliner comes in three varieties – gel, liquid, and pencil. If you are a beginner, we would suggest you opt for Note Black Precision Eyeliner. It is easy to use and great for creating a smoky eye.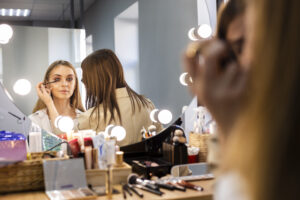 How to apply eyeliner?
Applying eyeliner is probably the toughest task for beginners, one little mistake and game over. Worry not! You can bury your eye makeup woes with some simple eye makeup tips.
Pull your eyelid taut and draw little light dots across your upper eyelids, staring at the outer corner and moving into the inner direction.
Work your way as close to the lash line as you can.
Now, connect the dots with your pencil or liquid eyeliner.
Make sure to sharpen your pencil eyeliner every time you use it. Go, wing it girl.
10. Mascara:
Want your eye makeup to be LIT? My love, you need to grab LOreal Paris Voluminous Original Waterproof Mascara. A few swipes of mascara and you can level up your eye game. While a high-definition mascara comes in a variety of colors, black and brown must be in your makeup bag.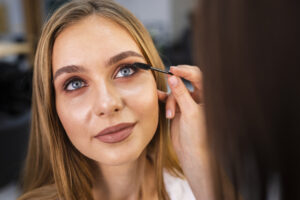 How to apply mascara?
Start by curling your lashes.
Now, swirl the mascara wand across the lashes, starting from root to working to the tips.
If you find your lashes to clump together, brush them with a clean wand.
Reapply the mascara to add more drama and volume.
11. Eyebrow Pencil:
One of the most crucial steps of how to apply makeup tutorials is doing eyebrows. Nothing can frame the face as better as your brows. Since eyebrow pencils come in different colors and shades, creating your favorite look will not be intimidating.
We recommend using SUGAR Cosmetics – Arch Arrival – Brow Definer to get your desired arches.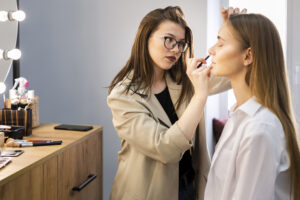 How to do eyebrows?
Just grab your favorite eyebrow pencil and define the brows the way you want.
Create your desired arch, starting from the root to working to the tip.
12. Lip Color:
If you are bound to use only one makeup product, lipstick should be at the top of your list. A swipe of lipstick, and you are ready to glam. We are obsessed with MAC cosmetics and its MAC matte lipsticks range as it feels like a hydrating balm while still providing full coverage and vibrant color to the lips.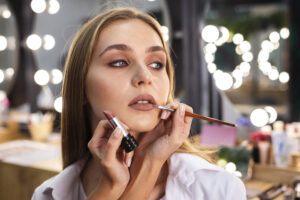 How to apply lipstick?
Editor recommends prepping your lips before doing your lip makeup. Start by exfoliating your lips by using a gentle lip scrub. It will help remove dead skin and rid cracked or chapped lips.
Next, use a nourishing lip balm or protective lip gloss to soften the lips.
Start by defining your lips using a lip liner.
Now, fill in with your favorite lipstick. Begin from the center of your lips, and work along the length of your pout.
Smack your lips lightly to make sure your lip color reaches every crack and corner of your lips.
Finish doing your lips makeup with lip gloss.
Here, the most important thing to keep in mind is the order of lip products i.e. lip scrub, lip balm, lip liner, lip color, then lip gloss.
Related Article: Lip Care – Be Kiss Ready!
13. Setting Spray:
Setting spray is the final step of our how to do makeup guide. If you want your makeup last throughout the day without creasing or greasing, invest in a quality setting spray or a setting powder. Suitable for all skin types, the makeup setting solution keeps your makeup in place and reduces the retouch-up needs for hours.
How to apply setting spray?
Apply makeup setting spray in a similar way as you use a hair setting spray. Place SUGAR Grand Finale Dewy Setting Mist bottle a minimum of 8 inches far from your face.
Now, spritz lightly to cover all bits of your face.
To make sure every bit is covered properly, spritz across your face in an X shape and then in a T shape.
Don't rub the spray. Wait for a few seconds to dry it naturally.
Bonus Beauty Tips:
Some makeup artists advise applying concealer before liquid foundation. These two steps of makeup are truly a matter of preference. Try both ways and figure out which method works best for you.
If you prefer using powder foundation, make sure to apply concealer first.
Don't pump the mascara wand into the bottle as it lets air go in and causes mascara to clump.
Don't apply an excessive amount of your makeup product to your face and neck. Always start small, and add more where required.
For a quick makeup look, you can try using a multitasking makeup product like BB cream or CC cream (as per your skin type) and eliminate the use of moisturizer, SPF or sunscreen, primer, foundation, highlighter, and other beauty essentials.
Final Makeup Look:
Well done girls! You've done your makeup! With this one-stop step-by-step makeup guide and beauty tips, it's easy to do makeup like a pro. Whether you are heading out for a night out or just going to the office, you can create any makeup look by just using this easy to follow makeup tutorial. Just glam the gorgeous!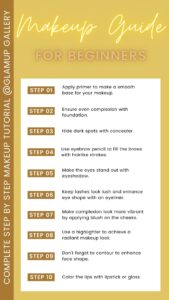 Now that you know how to apply makeup like a pro, hoard your makeup bag with all the beauty products listed above.
Like this makeup guide? Spread the love by sharing it with your friends and family.