Stretch marks are one of the common skin problems for both men and women in the United States, India and other parts of the world. Most commonly seen on thighs, waists, hips, lower backs, breasts, buttocks, abdomen and arms, these hideous stripes tend to leave a drastic effect on people's confidence. They may be pink, purple, red or silver in appearance, but the question remains: what causes stretch marks?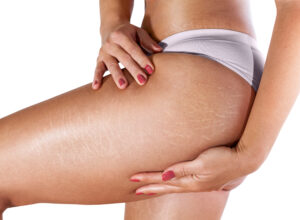 What are the reasons for stretch marks?
"A woman gets stretch marks from one of two things, either she was big and got small, or she was small and got big" Katt Williams.
If you have brought a new life into the world, gained some weight, lost those few extra pounds or gone through any other kind of body change, you have a higher chance of experiencing these tiger stripes on your skin. Evidently, these lightened lines are the result of skin contraction or expansion. While pregnancy and puberty are the two common causes of stretch marks, weight fluctuation, stress, genetic factors, ignoring self care and body care etc. can also be accountable to breed these beauty woes.
What are the risk factors of stretch marks?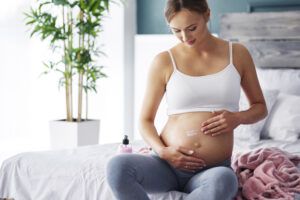 No matter you are from India, the US, the UK, Canada or any other corner of the world, anyone can develop stretch marks (striae). However, people with the below signs are most likely of getting these hideous strips.
Being female
Sudden weight gain or weight loss
Having a family history of striae
Being pregnant
Using corticosteroids
Rapid growth in puberty
Getting breast enlargement surgery
Exercising, cycling and taking anabolic steroids
Skin stress
How to protect against stretch marks?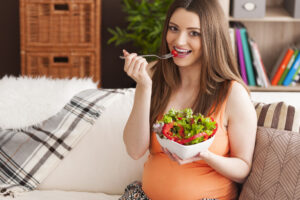 Even if anyone can develop these tiger stripes, you can follow some skin care tips to reduce your risk of getting them.
Control your weight
Stay hydrated
Eat a nutrient-rich diet
Include vitamin C and Zinc in your diet
Soak up some vitamin D
Do Regular Exercise
How to get rid of stretch marks?
While stretch marks aren't an indication of ill health, they can really lower your confidence and check you from donning your favourite shorts, sleeveless and those LBDs (little black dresses). So, if you have got fed up with these ugly scars and looking for some quick ways to get rid of stretch marks, here is the fix.
Read on to know the effective home remedies and in-office treatments to remove stretch marks.
Home remedies to remove stretch marks: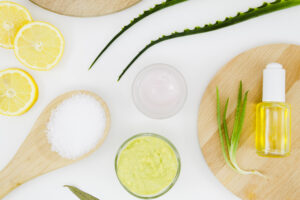 Vitamin A:
Vitamin A is a proven remedy to remove stretch marks and promote skin care. It helps repair the skin cells and promote youthful skin. This is why Vitamin A is widely used in making skin care products and stretch mark cream.
How to use Vitamin A? Soak up some sun, take Vitamin A rich foods, swallow Vitamin A capsules or apple vitamin A oil to the affected areas.
Sugar:
Sugar is a natural exfoliator used for homoeopathic microdermabrasion to lighten stretch marks. Therefore, you can prepare a sugar scrub to lighten the pesky lines. The small sugar crystals will promote blood flow in the area, gently scrub away dead skin, speed up the skin healing process and leave you feeling smoother.
If you're wondering how to use sugar to get rid of stretch marks permanently, you must try this DIY treatment. Take a tablespoon of sugar in a bowl. Add a few drops of essential oil to it to form a fine paste. Rub the mixture over the striae for a few minutes and then rinse it off. Follow the process twice a week while in the shower.
Aloe Vera:
Aloe Vera has a long history of healing and hydrating the skin. This is the reason that it is used in many natural skin treatments and stretch marks removal creams.
How to use aloe vera to remove stretch marks? Apply freshly extracted aloe vera gel directly to the affected area daily after bath.
Virgin Coconut Oil:
Coconut oil has some proven self care benefits of healing wounds, treating scars and preventing stretch marks. Thus, expecting mothers are advised to apply coconut oil to their abdomen. After all, prevention is better than cure.
There's not a lot of evidence to support the use of coconut oil or any other plant oils like argan oil, tea tree oil, olive oil, almond oil etc. to remove stretch marks. However, a gentle daily massage with coconut oil will not harm you. It may not remove them, but it will help prevent their occurrence for sure.
Glycolic Acid:
Glycolic acid is an excellent ingredient that you must include in your skin care routine if not yet. Not a very popular but an effective skin care ingredient to moisturize the skin, boost collagen, treat acne, lighten scars and remove those unsightly striae.
How to use glycolic acid to remove stretch marks? Apply a small amount of it to the affected area before going to bed at night and rinse it off in the morning. Don't use it when in the sun as it can cause sunburn.
Potato:
Potato is an effective skincare remedy to remove stretch marks. Yes, you read it right. Potato juice can help heal the striae. Since they are rich in starch and skin lightening enzymes, they help lighten the scars and give you brighter skin. This is why people often use potatoes to remove dark circles.
Not sure how to use potatoes to remove stretch marks? Follow these steps. Take out potato juice and apply it over the stretch marks. Leave it for 20-30 minutes, and then wash it off. Daily application of potato juice will give you spotless, glowing and healthy-looking skin.
Lemon Juice:
Lemon is a tried and trusted skin care ingredient known for its natural body care and bleaching assets. It helps reduce the visibility of stretch marks and makes them less visible.
How to use lemon juice to treat scars and marks? Apply fresh lemon juice to the affected area or rub a lemon wedge to the stretched skin lines regularly to notice the visible result.
In-office treatments to remove stretch marks: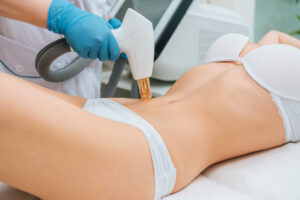 Laser Therapy:
Laser therapy is a world-popular treatment to remove stretch marks. This treatment can help stimulate collagen, diminish skin texture and reduce scar redness. So it makes sense that laser therapy can help reduce the visibility of stretch marks. There are several options to do laser treatment. Depending on your particular issue and other medical factors, your doctor will help you decide which option will best suit you to get rid of stretch marks. Some laser therapies require several sessions to offer visible results.
Microdermabrasion:
Microdermabrasion is a kind of medical exfoliation of the skin. This is far different from the home exfoliating technique. In microdermabrasion, a certified professional uses a handheld wand to apply an abrasive substance to the affected area. The process aims to scrub away the dead skin cells and lighten the silver lines.
Microneedling:
Microneedling is a minimally invasive cosmetic treatment used to treat the texture of stretch marks. In this treatment, professionals use a handheld roller with numerous microneedles that create tiny pricks in the skin. It causes the skin to produce collagen and elastin, which help remove unwanted striae.
Radiofrequency:
If you are looking for a non-invasive treatment to get rid of stretch marks, RF therapy (radiofrequency) can be the best choice for you. RF treatment sends energy waves into the skin that penetrate the dermis layer and stimulate collagen production. The result can be brighter and firmer skin.
Chemical Peel:
A chemical peel is a highly effective cosmetic procedure to reduce the visibility of stretch marks. The procedure involves the application of an acid to the skin's surface that exfoliates the outer damaged skin and improves the texture of striae.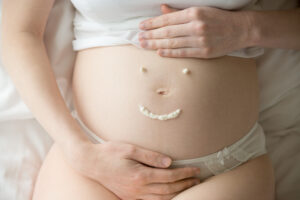 Outlook:
In general, medical treatments are more effective than home remedies. But any skin care treatment for stretch marks can cause sensitivities or side effects. This includes both home remedies and in-office treatments. So, it's wise to consult a skin care specialist to figure out which one will best suit you. Make sure to have realistic expectations about the outcome because no procedure can guarantee the complete removal of stretch marks.
FAQS On Removing Stretch Marks
Can tanning remove stretch marks?
Short answer: No. In western countries, people often believe that a self-tanner camouflage striae but tanning cannot help remove them.  On the contrary, tanning makes stretch marks more noticeable because they don't tan. As per the studies, Hyaluronic acid and Tretinoin can offer some relief.
Can we get rid of stretch marks permanently?
Removing stretch marks completely can't be feasible, but they may fade over time. Additionally, home remedies and in-office treatments mentioned above can help lessen their appearance.
What is the best way to avoid getting stretch marks?
Self care and skin care is the key to preventing getting stretch marks. Keeping the skin moisturised and drinking 8 to 10 glasses of water daily can help prevent stretch marks. Also, make sure to exfoliate your skin from time to time. Furthermore, add omega-3 fatty acids and vitamin c- rich foods to your daily diet to keep striae at bay.