The festive season has already started and filled our hearts with so much happiness. Be it Navratri, Dussehra, Karwa Chauth, Diwali or even Christmas Night, we plan relentlessly to celebrate each day with all grace and glam. But with so many plannings and preparations, we are often confused about how to find the best dress for the festive season. Worry not, we have got you covered.
Stick to the last of this post to uncover what are the options of the best dress for women and men this festive season 2023-2023.
Best dress for women for festivals
Even if you have countless options in your wardrobe, you feel like you have nothing to wear. I understand that finding the best dress for Diwali, Christmas and other festivals can be a tough task. Hence, to ease the task, here are the top 5 traditional ethnic wear for women. These festive dress ideas will help you look fab at any festival.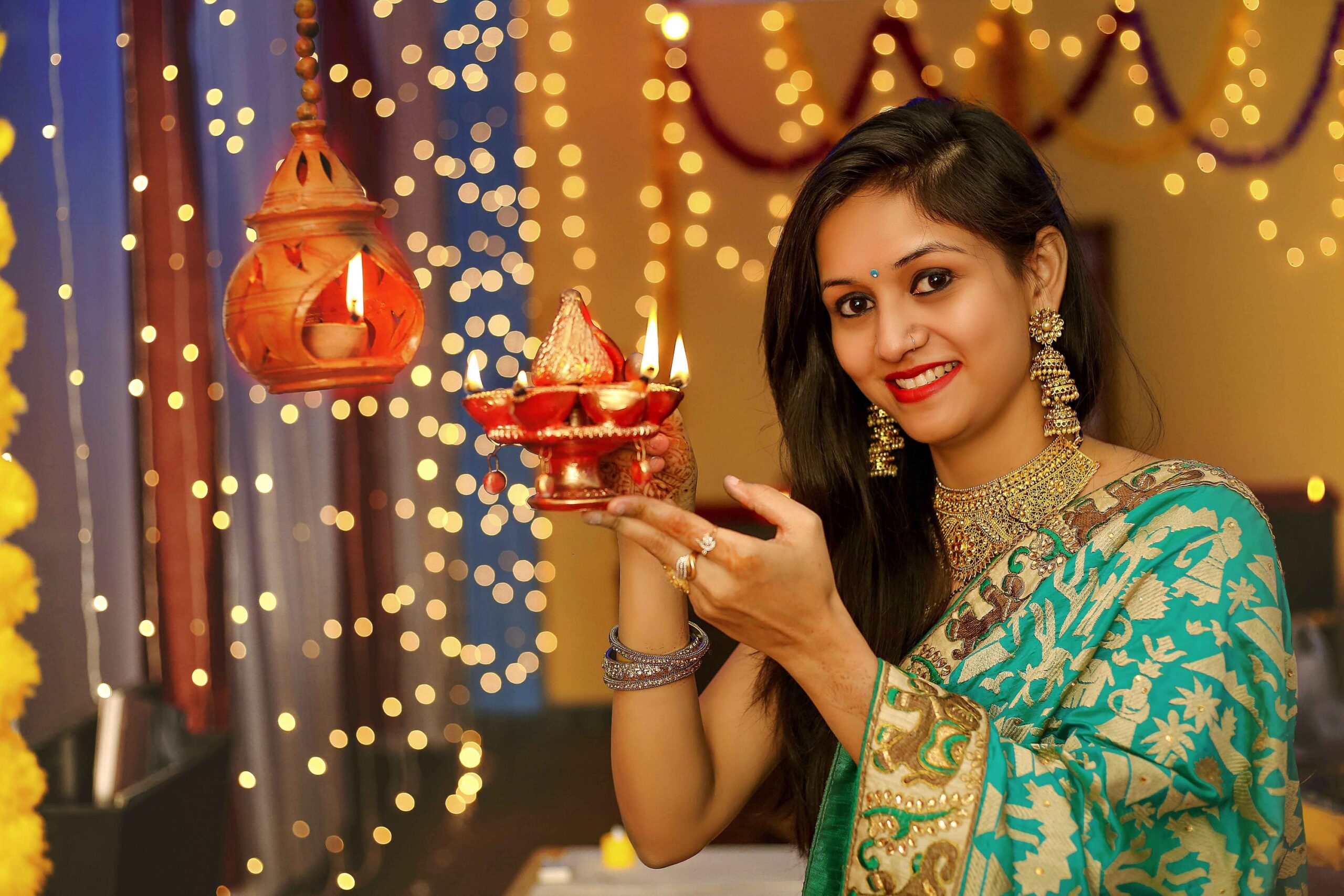 1. Saree
Saree! Do I really need to stress more to describe the importance of draping a saree at any Indian festival? Saree is one such Indian attire that goes well with every occasion and is always in vogue. Be it festivals, weddings, birthdays or even a formal gathering, draping a saree always helps you steal the limelight. You can buy a designer saree, net saree, silk saree, Banarasi saree or chiffon saree to mark your presence at an occasion.
To finish the look, you can pull on your traditional bangles, necklace and high heels. A low sleek bun wrapped with gajara around looks fab with a saree look.
Related Article: 8 Trendy Hairstyles for Festive Season 2022 – Approved by Bollywood Celebrities
2. Sharara Suit
Be it any Indian festival: Navratri, Dussehra, Diwali or even Christmas day, an elegant sharara suit can never go out of style. It is one of the best Indian outfits for women of any age. The best thing about this traditional attire is that you can find them in limitless colours, designs, cuts and patterns.
While the sharara suit is solely sufficient to steal the show, pairing them with some beautiful accessories like Jhumaka and mang tika glam up the look further. Complete the look with a pulled-back French braid hairstyle that goes well with the sharara suit on any occasion.
3. Anarkali Suits
Anarkali Suits have been in fashion for decades and don't seem to go out of fad anytime soon. So, to match the vibe of the festive season 2022-2023, you can put on an elegant Anarkali Suit on any occasion. Pick any colour suit with extensive embellishments on it to accent the ethnic ambiance.
Glam up the look with dramatic makeup look and some simple jewellery. A matching pair of earrings with elegant heels and double-sided French braid could be all enough to compliment the look.
4. Designer Lehenga Cholis
No, lehengas are not just for weddings. A designer lehenga choli gives a glamorous look at all sorts of Indian occasions – be it weddings, engagements, Karwa Chauth, Diwali, Christmas day or even Garba night. So, this festive season, don your beautiful lehenga choli for a more traditional and trendy look.
To keep the look minimal and mesmerizing, pick a lehenga choli with soft hues and minimal embroidery. Pair it up with some Indian jewellery to accentuate the festive vibe. Using white flowers to a half up half down hairstyle is a big yes when donning lehenga cholis.
5. Maxi Dresses
One of the latest fashion trends that are floating everywhere in 2022 and will go beyond is the maxi dress. Maxi dress is one of the best dresses for women to wear during the festive season due to their ethnic appeal and comfy feature. The best part about maxi dressis you can wear them anywhere – be it an office party, a casual gathering or a festival night.
Style up your maxi dress with a classic clutch, a wristwatch and some oxidized jewellery. Opt for the bold makeup to balance the festive look.
Best dress for men
When it comes to the best dress for men for the festive season, there are some wardrobe essentials that every man should own.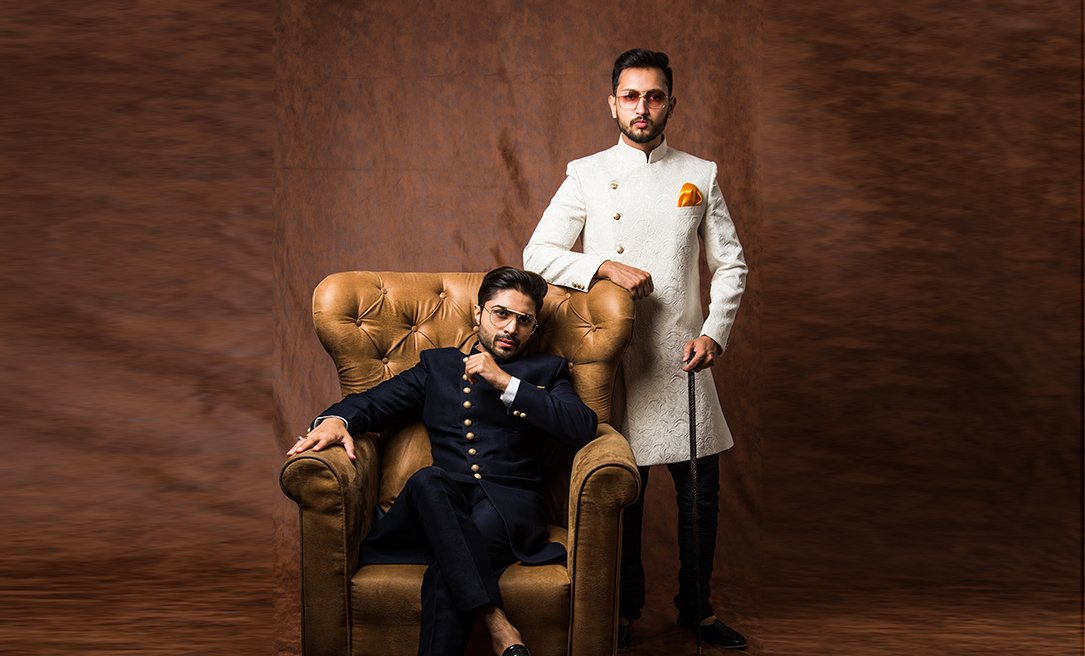 1. Go Limitless with Designer Kurtas
A designer kurta is something that every man must have in his traditional wear wardrobe. The best part of a men's designer kurta is that you can pair them with jeans, churidar, dhoti, trousers, pants and so on. Buy one designer kurta and style it in different ways for different occasions.
A pair of leather chappals, kolhapuris, strappy sandals,loafers, mojaris or juttis go well with your designer kurtas.
2. Mix and match your Kurta withpyjama, dhotis & churidars
Kurta pyjama has been the first choice of men forany traditional event and festive season, but you need not stick to the same bottom on every occasion. You can pair a man kurta with jeans, trousers, churidar and dhotion different occasions. For instance, if you are wearing a particular kurta with trousers on Karwa Chauth, wear it with Dhoti on Diwali.
A pair of leather chappals and a wristwatch do all the tricks to compliment your traditional look.
3. Jazz up your look with jackets
Jackets are a great add-on. You can team up your designer kurta or even a regular shirt with a jacket to mimic the different looks.A traditional printed jacket is something that can transform your look in minutes. No matter whether you go with a short jacket, long jacket, Nehru jacket, blazer or designer jacket, layering up your outfit with this Indian ensemble always gives a royal look. The best thing is that you can find jackets in limitless colours, designs, and patterns to accentuate your traditional look during the festive season.
You can style a stole or dupatta with your trendy jacket to add royal elegance to the overall look. Juttis are an obvious choice to pair up with men's festive outfits.
4. Embroidered sherwani
When it comes to the best dress for men for the festive season, Indian men look for such pieces that are trendy, and stylish yet comfortable to wear. And a sherwani with ankle-slimming pyjamas and ethnic mojris does the same. A classy embroidered sherwani with intricate detailing gives a dash of elegance that Indian festivals seek for. You can wear sherwani at a Dusshera dinner, Diwali pooja and other traditional events to transform your look instantly. To give desi twist to Christmas party, you can try elegant sherwani.
Complete your ethnic outfit with a pair of matching mojris, loafers or leather chappals as per your level of comfort.
5. Timeless classics
Some ethnic Indian ensembles enter our wardrobes and make a permanent place for them. An intricate silk kurta with straight pants and a long jacket is one such timeless piece. You can't resistfalling in love with this ethnic attire for men. Stylish, statement-worthyand oh-so-sexy. If you are ever confused about what to wear at an Indian festival or a traditional event, it's the pick.
Any type of mojris, loafers, kolapuri jutties, leather chappals or loafers look completely fab with this timeless classic.
How to buy the best festival/party dress for men and women?
Go for the right fit. While the oversized dress is the western wear trend, Indian outfits focus on sharp and tailor-made fit. So, when you buy the best dress for the festive season, make sure that its fitting is flattering.
Before you buy a dress for party, take a look at your wardrobe to figure out what pieces you already have and what you really need. Does your wardrobe lack a full ethnic set or require a few add-on pieces to glam up your look this party season?
Fashion is important but comfort comes first. Never compromise on the point of comfort when it comes to wearinga dress at festivals or any such occasions. Go for the right fitting (neither too loose nor too tight), soft fabric and comfy feeling when buying the best outfit for festivals.
While doing Diwali shopping for outfits, don't go too overboard. While lehenga choli, designer kurtas and other embellished outfits are on the rage during the festive season, make sure to keep it simple and subtle. Heavily embroidered dresses are good to go with the wedding season; festivals should be subtle and stylish.
Indian festivals are a way to eat, drink and merry. To celebrate the festivals with all glam and grace, buy the best dress for men and women online. Don't hesitate to mix and match your outfits with other attires in your wardrobe to create an indo-western look.