Great skin is not merely a gift of your DNA. Your lifestyle and daily habits leave a big impact on your skin. The days are long gone when skin care routine for men used to be confined just to a bathing bar and aftershave.
Today's stress-filled scenario, hectic lifestyle and polluted atmosphere have made it indispensable for men to follow a skin care routine as women do. Therefore, practising a specific skincare routine for men is an essential part of self-care.
Considering the burgeoning needs for skincare, GlamUp Gallery, Beauty Beyond Boundaries brings you a daily skin care routine guide for men. It will help every guy stay away from acne, blemishes, blackheads, sun damage etc. and get the healthy skin of his dreams.
Understand the difference between men's and women's skin:
It's a common tendency of many men out there that they use the same skin care products that their sisters or wives use. It's not a good practice. Even if the basic skincare routine for women and men is pretty similar, there are some basic differences between men's skin and women's skin. For instance, men's skin is thicker and tougher than women's.
Thus, men need to idolize their skin care routine with the top skincare products which suit their macho skin. So, before you plan a male skincare routine, identify your skin type first and then buy the best skincare products accordingly.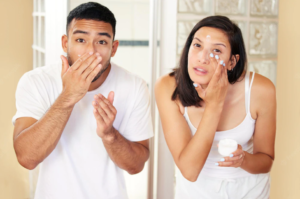 How to know skin type for men: 
There are mainly 5 types of skin namely Normal Skin, Oily Skin, Dry Skin, Combination Skin and Sensitive Skin. Understanding your skin type will help you find the best skincare products for you and learn what are the basic skincare routine steps.
Know more here: 5 Skin Types – How to Take Care of Your Skin?
To help men get healthy skin, experts and dermatologists suggest the following skincare steps.
                                           Skin Care Routine Steps
Morning skin care routine
Night skin care routine
Cleanser
Cleanser
Toner
Toner
Serum
Serum
Eye Cream
Eye Cream
Moisturizers
Night Cream
Sunscreen
Spot treatment
Morning skin care routine for men:
Your morning skincare routine includes the following steps:
1. Cleanser:
For all types of skin care routines, cleansing is the first step. Just find the right face cleanser that suits your skin type and kicks start your daily skin care routine. If you wake up feeling lazy, sleepy or dry, just a splash of water followed by a gentle face cleanser would do the magic.
How to find the best cleanser for men?
Use a cream-based cleanser if you have dry or sensitive skin. Pick a foaming cleanser if you have oily or combination skin.
2. Toner and Serum:
This step is for those men who are dealing with some skin concerns and looking to treat the same. Double-cleanse your skin with toner and treat it with suitable serum. The active ingredients from your serum penetrate deep into your freshly washed skin and do their job.
How to find the best serum for men?
If you are dealing with redness and ageing signs, a retinol serum would be best for you. For sensitive skin, use one with the goodness of Aloe Vera and Zinc and if you have dry skin, use a hyaluronic acid-based serum.
3. Shaving:
Shaving is an essential part of every man's skincare routine. You can't skip this step but do it after cleansing. Skip step 2 on the day you shave as shaving exfoliates the skin and causes irritation when the active ingredients penetrate the pores.
How to find the best aftershave for men?
While aftershave is not essential, you can use your daily moisturizer in place of aftershave. But if you are habitual to using it, find an alcohol-free formula as alcohol can dry out and irritate your skin.
4. Moisturize:
Moisturizer is an essential step in every man's skincare routine to lock in hydration. Even if you skip step 2, don't skip moisturizer. Moisturizer is a must even if you have oily skin.
How to find the best moisturizer for men?
Use light water cream if your skin is oily and find a butter-rich formula if you have dry skin. Some essential ingredients to check are glycerin, aloe vera, ceramides and colloidal oat. These skin-friendly ingredients are known for their hydrating properties. If you find the right one, you can use it as a soothing aftershave too.
5. Sunscreen:
Before heading out in the sun, apply sunscreen to your neck, face and other body parts that are exposed to UVA rays. Don't assume that your facial hair will do the trick and save your skin from sun damage. Don't skip SPF even on cloudy days.
How to buy the best sunscreen for men?
To protect man's tough skin, buy one with broad-spectrum protection and a minimum of SPF 30.
6. Exfoliator/Scrub:
Use an exfoliator but not daily. Exfoliation should be a step of your weekly skincare routine. After cleansing your skin, scrub it up to slough off dead skin cells. Follow the process with your daily moisturizer.
How to buy the best scrub for men?
Buying the right exfoliator for men is not a big deal. All you need to do is to rely on the natural skincare range and pick one which suits your skin type. For instance, go for moisturizing oils and a creamy texture if you have dry skin. A creamy texture helps remove dead skin cells, reduce dryness and soften skin as well.
Evening skincare routine for men:
Your evening skincare routine includes the following steps:
1. Cleanser:
Your macho skin not just needs a morning wash, but it also requires a nighttime cleanser. Night wash is necessary not only to get a fresh feeling before you go to bed but also to remove the mar of sweat, dust and dirt your skin gets throughout the day.
2. Moisturize:
Again, use your daily moisturizer to lock in hydration. Your skin is more absorptive when you sleep, thus, making it easier for your skincare products to seep out. It would be great if you find a thicker creamy formula for the night.
3. Retinol:
Retinol helps reduce the appearance of sun damage, blemishes, wrinkles, fine lines, and other ageing signs. Also, it helps exfoliate your skin and get a plump feeling. But it is not good to use retinol in the morning as it can make your skin more sensitive to the sun. So, to get the goods to the fullest, add it to your night skincare routine only.
4. Eye Cream:
Since the skin around the eyes is delicate, it tends to show ageing signs much faster than other parts of the body. Often men after 40 experience wrinkles, puffiness and fine lines around the eyes. Thus, to get a youthful glow for longer, don't miss adding an eye cream to your daily night skincare routine for men.
The Takeaway:
Take this skin care routine for men as a starting point and alter it wherever necessary as per your unique skin type and skin concerns.
Related Article: Best Men Grooming Tips – A Complete Guide For A Better Lifestyle!