If the last two years of global lockdown have taught us anything, it is that nothing can stop love. The global pandemic COVID-19 impacted everything, from our skin to hair, health to happiness, lifestyle to livelihoods, but one thing that remained unaffected is love and wedding season! There is nothing that can capture the zeitgeist of love season as well as a wedding ring. You might ask what is wedding ring design trends in 2023.
Wedding dresses signify the scintillating style, accessories create the statement, flowers make the ambiance, but the beautiful wedding rings symbolize the meaning of love, care, and compassion. They represent a promise of partnership, unshaken faith, unbreakable bond, support, and commitment. With such a profound significance in mind, shopping for the epic engagement ring or wedding ring is all couples' goal. Therefore, jewelry designers constantly come up with iconic wedding ring designs to celebrate the bond of love.
Here are the top four wedding ring design trends couples will be coveting in 2023.
1. Toi et Moi Trend:
You and Me (Toi et Moi) ring symbolize the confluence of two souls in the biggest celebration of the wedding. Toi et Moi, a looped band with two stones nestled side by side, dominated the jewelry market in 2022, and its craze doesn't seem to go down even in 2023. The burgeoning hype of Toi et Moi bands is perceptible from the lifestyle of celebrities like Solange Knowles, Ariana Grande, Megan Fox, and Emily Ratajkowski. They have received sparkling Toi et Moi rings from the love of their life. While solitaire diamonds are the iconic stone for engagement ring design for female, now, jewelry designers are toying with other colorful gems like emeralds, sapphires, ruby, coral, or even pearls to design Toi et Moi rings. Really, the depiction of two stones in one band is full of love and romance!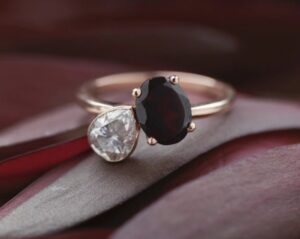 2. Trio Style:
A classic style, three stone rings have been around for years. While 20th-century fashion icons are popularizing the Toi et Moi ring style, three-stone engagement ring design for couple is turning increasingly popular in 2023. If you are looking for a timeless wedding ring, trilogy style – a sparkling hat trick, is for you. Trio wedding bands are entrenched in symbolism where three gems exemplify the past, present, and future. Three-stone bands are a winning choice for those couples who can't pick one between so many starry-eyed options.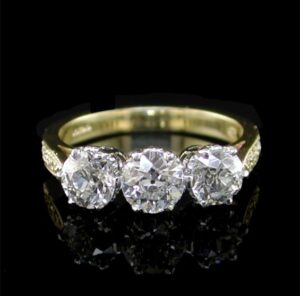 3. Solitaire Diamond Ring:
Diamonds are Forever! Solitaire diamond ring designs are a timeless trend. Use them in whatever way you want, and you will rock the floor. Be it tilted diamond style, oval diamond trend, the single diamond in a heavy sculptural ring, a small, signature diamond band, or any such ring style, it will catch eyes wherever you go. Diamond is one of the most popular wedding rig trends in 2023 and beyond.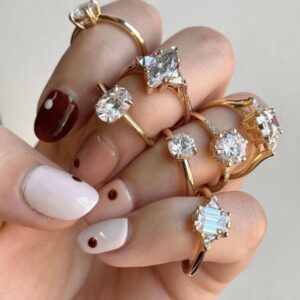 4. Personalized Ring:
The most popular wedding ring design trend in 2023 is a personalized ring. A personalized wedding band speaks volumes about your love story, which is why bespoke designs are garnering attention. Finding a wedding ring that's not only exclusive but also interprets your bond is the driving force behind this iconic trend.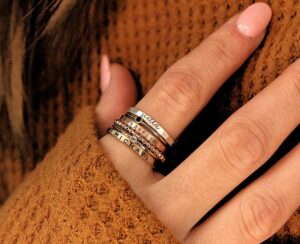 Solitaire Diamond Rings – A Stable Wedding Ring Trend of Fashion & Tradition!
While there are several ring designs and styles in the jewelry industry, the trend of diamond accessories is at its highest peak that never seems to take a nap. Diamond doesn't seem to give a chance to any other material to replace it or rock the range of the jewelry market. An elegantly designed diamond ring design for females can't escape unnoticed when looking to find the best engagement ring to impress your girl.
Why Diamond?
Diamond Makes The Statement:
Gone are the days when engagement or wedding ceremonies tend to be plain and placid where a simple round ring made of silver or gold was all enough to make the mark. These days, people prefer to have style, elegance, lavishness, and ostentation in every phase of life. And when it comes to special events of life like weddings, they can't resist their taste in simple gold or silver rings. Couples see the beauty of creating unique wedding rings that can truly reflect their style, express their emotions and intake the unshakable bond both of them are going to share for the rest of their life. What else can depict all these traits than the real diamond?
The Best Way To Express Emotion:
Finding a real and regal diamond ring is not so tough these days. You can easily find the right match for your lady loves at a reputed online jewelry store. There can be no better way to woo your love than a beautiful diamond ring in your hand and love in your eyes. Just kneel down with a diamond ring to propose to her for marriage, and she will be unable to refuse you and fall snugly in your arms.
Diamond Is Deep-Rooted In Tradition:
In some parts of the globe, it is customary to wear a diamond engagement ring for both guys and gals who are engaged to be married. According to an old belief, the ring finger of the left hand on which the wedding band or engagement ring is worn has a love vein that is directly connected to the heart. Therefore, wearing a diamond band not only keeps reminding and reinforcing the bond that the couples share but also the unmatched shine of this stone continues to glam up the love life.
Diamond Is The Perfect Gift Option:
Guys, if you are one of those overwhelmed partners who are going to get engaged and looking for buying some sizzling, shining, and beautiful engagement band that can instantly bring a pleasant and innocent smile to her face, don't waste your time, effort, and money in trying different options. Simply visit an online jewelry store and buy a beautiful diamond ring of your choice to steal her heart.
Woo For The Wedding!
Congratulations! You know some of the most trending wedding ring designs for couples! Just pick the perfect ring design for your love and woo for the wedding. It is time to celebrate your bond. Every wedding is unique and entails a lifetime memory; make it vibrant with a perfect ring style. Don't forget to shoot the moment and click a ring selfie!
Also Read: Indian Winter Wedding Outfit Ideas