A few things in the world are highly underrated such as autumn leaves, sun showers, good massage, and groom makeup. List out the wedding essentials and you will cover them all but the man makeup for the wedding does not even get a place on the list.
Looking fab and flawless isn't a field solely reserved for ladies and Bollywood celebs. Nowadays, even the common men want to look their best in their day-to-day life and on special occasions like weddings. That's why "groom makeup packages near me", "groom makeup artist", "groom makeup pics" etc. have been the most searched terms on Google nowadays.  So, keeping these terms and groom makeup in mind, here we have come up with some best man makeup tips for wedding so that guys too can look their best on their big day.
But before we share the man makeup routine for the big day, let's first know the bright points that a bride enjoys on her big day.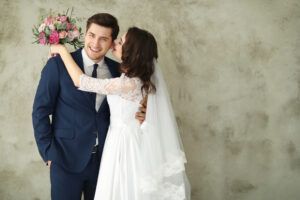 Bride's Benefits:
Good news for the bride! She is no longer the only one to glam up the wedding place. Now, she has the groom to accompany her in the glam game. So, both bride and groom share equal accountability to jazz up the wedding mandap. However, the bride enjoys some benefits over the groom:
Bridal makeup has been a popular trend of the time. So, your makeup artist knows about bride makeup before and after services. But there is very little understanding about the groom makeup before and after the big day.
There are several types of bridal makeup packages available in the market. But groom makeup packages are limited.
People still see the bride as a centre of attraction and all eyes are on her. The groom, no matter how hard he has tried on everything from spa and hair treatment to waxing and facial, he doesn't get as much attention as the bride.
Since the table seems to bend in the bride's favour, let's make things a little easier for guys by sharing some tips on pre-wedding preparation and makeup for groom on wedding day. Why should brides have all the fun?
Groom makeup tips for the wedding day:
1. Oral hygiene – for a heart-winning smile:
"Brush your teeth daily and maintain oral hygiene", is not a thing to mention but not maintaining the same has been a common practice for many. Just because you feel sleepy or get late does not mean you will avoid brushing and flossing.
Give your best to maintain oral hygiene for that dazzling smile and fresh breath. You can make a mixture of baking soda and lemon drops to brush your teeth. This natural home remedy for teeth whitening will help take away the stain from your teeth.
2. Facial – for the healthy glowy skin:
Facials are not for females only. Males too can get facials for that healthy glowing skin. Start getting the facial treatments 2 months before the marriage and go for the same after every 15 days. Make sure to get your last facial session a minimum of 2 days and a maximum of 6 days before the marriage. Stay away from chemicals and opt for any organic or fruit facials for the utmost glow.
3. Trim it up – for good grooming:
Again "trim your hair, beard and moustache" is not a thing to point out for a well groomed guy. But we would suggest not to experiment with your grooming game. Always contact a trusted source for flawless grooming.
4. Scrub away – for the inner glow:
Exfoliation is an extremely important step as it brings out the inner glow by sloughing away the dead skin cells. Human follow a common practice to wash their face but forget to exfoliate. It is not good. Treat your skin with a gentle exfoliator to do away with the dead skin cells that clog pores and uncover a smooth surface to turn on the makeup game.
5. De tan – for even skin tone:
Getting sunburns, dark patches or tanned skin is a common concern for men. So, to get rid of hideous tan and find even skin tone, make sure to start your detan routine at least 2 months before the wedding.
To detan your skin, you can either use store-bought detan cream or make a DIY detan at home using curd and tomato juice. Make a fine paste using these two natural products and apply it to the tanned skin like your face, neck, back, hand, feet etc. Repeat the process every alternate day and you will see the result on your big day.
Also, wear SPF daily and use shades to avoid getting tanned further.
6. Follow the CTMM approach:
To get ready for your big day! Follow the CTMM approach – Cleanse, Tone, Moisturize and Makeup.
Cleanser for men – For dry skin, use an oily based cleanser and for oily or acne prone skin, use a water based face wash!
Toner for men – Follow the face wash with an alcohol free toner. It will help restore the pH level of your face as well as help you get the glow every actor flaunts!
Moisturize for men – Now nourish and hydrate your skin with a non-sticky moisturizer. It will provide a smooth base and prevent wedding makeup for groom to be cakey.
Makeup for men – It is time to start man makeup now. You can call a professional groom makeup artist or do it yourself by using the best makeup products for men.
7. Makeup – for the flawless features:
Not SPF, it is PCF glow – Primer, Concealer, Foundation.
Primer for men: After proper cleansing, toning and moisturizing your face, it is time to prep your face for further man makeup for wedding. Prep it with primer before you move on to the next step.
Concealer for men: Cover your skin imperfections like dark circles, blemishes, acne scars etc. with a good quality concealer matching your skin tone. Concealer helps you mask all your skin imperfections flawlessly.
Foundation for men: Don't skip the foundation. It is an important step to makeup for groom on wedding day. Find one as per your skin type and tone. Don't go for a too lighter or too darker shade. Opt for the one that compliments your skin tone. Use a cream based foundation for dry skin and water-based foundation for oily skin.
8. Hair care – for the heart-stealing look:
It is all about hair – hair spa, haircut, hair gel, hair styling. After all, hair is the crowning glory not only for females but for males also.
Hair protection – Always wear a bandana under the helmet to protect your hair from sweat and pollution.
Hair spa – For healthy and hydrated hair, make sure to get a hair spa for groom twice a month and start getting the same at least two months before the wedding day.
Hair cut –Connect with your known hair stylist for haircut. If unsure what hairstyle will best suit you, go digital and try different haircut looks before you finalize your groom wedding look. Also, make sure to get a haircut at least a week before the wedding because hair takes some time to get set.
Hair gel – Set your hair with your favourite hair gel for the perfect hair look. Don't go for heavy or cream based formula as it can weigh down your hair.
Hair styling – If needed, don't hesitate to go for hair styling. You can ask your hair stylist for blow-drying or straightening your hair.
9. Eye pencil – for captivating look:
Who says eye makeup is only for girls? Even men can do a little eye makeup to catch attention. Keep it simple and natural. Just use black eye pencil to your waterline to define your look.
10. A little lip color – for healthy & hydrated lips:
Lip makeup for men! Yes, you read it right. Like bride, groom too can go for lip makeup.
Lips scrub: Make sure to exfoliate your lips using a store bought lip scrub or use a DIY lip exfoliator by making a paste of honey and some sugar crystals. Do it every week to slough away dead skin cells and get rid of chapped lips.
Lip color: On wedding day, prep your lips by massaging them with lightweight moisturizer and then apply a natural or light color lipstick to your lips. Press your lips with tissue paper to absorb excess lip products. Many men in the world and celebrities use lipsticks in their day-to-day life. Why should you lag behind?
11. Finishing touch:
Finish your groom makeup with a light golden glow to make your groom makeup pics attractive and unforgettable.
12. Eat "Healthy" Food – for healthy face & healthy you:
An important part of any makeup, be it bridal makeup or groom makeup, is having healthy skin and healthy skin comes from healthy food. So, eat healthy food like there's no tomorrow! Stay away from the layered cake, cheese pizza, overflowing burger, sugary beverages etc. and include green vegetables, whole grains, nuts, sprouts, and fresh fruits in your daily diet list.
13. A fitness trainer – for the perfect physique:
Your wedding is around the corner and your belly is ready to reach the mandap before you. It shouldn't be. Go an extra mile to flatten your tummy as sticking your tummy in won't always work. Workout daily, eat healthy and hit the gym. If needed, hire a personal fitness trainer to plan your routine for how to lose belly fat.
14. Sound sleep – for that fresh and energetic look:
Last but not the least, make sure to take your 7-8 hours of beauty sleep to keep yourself feeling fresh and looking fresh. No bridal makeup routine or groom makeup tips can actually conceal naturally tired eyes.
Conclusion:
These are some best man makeup tips for wedding. You can try all the other things you want but make sure to do it right and experiment in advance so that nothing can create havoc on your big day. Make sure your face makeup steals as much of the show as your wedding suit or sherwani does. Above all, focus on your beautiful bride and wear a smile on your face to create a pleasant vibe around you.
Man makeup for wedding is done and you are all set to walk down the aisle.
Have a happy journey ahead!
Liked this man makeup guide for wedding? Save it for your beg day and share it with your friends to up their glam game.
Go on grooming, guys!