Eye makeup products such as best mascara and eyeliners are a great way to bring out the best of your eyes. However, if it goes into your eyes, eye makeup is a real tearjerker. It can cause an allergic reaction, leading to itching and redness. On top of all, it can ruin your perfect makeup look. So, what's the solution? We can't stop people with sensitive eyes to stop wearing mascara or any other type of eye makeup altogether. It is neither fair nor plausible. The best answer to this dilemma is to use hypoallergenic eye makeup.
What is Hypoallergenic Eye Makeup?
It refers to makeup that is free from common allergens. In other words, it refers to eye makeup products such as eyeliners, eye mascaras and lipsticks which do not cause an allergic reaction. These products are specifically made for people with sensitive skin or eyes. It does not mean that others cannot use it. Our research shows that some of the bestselling eye makeup and skincare products are hypoallergenic.
Today, we will list the best hypoallergenic makeup for sensitive eyes. Eye makeup consists of numerous products such as eyeliner, eye shadow, mascara, primer, and false eyelashes. Therefore, it is challenging to list the best hypoallergenic eye makeup products. Instead, we will discuss the best hypoallergenic brands. All you need to do is to buy the desired eye makeup product from these brands.
Related Article: How To Apply Makeup – A Step By Step Guide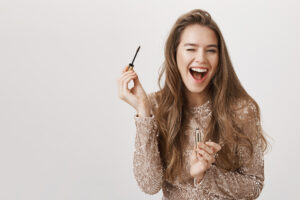 Best Hypoallergenic Brands
It is to be noted that hypoallergenic is not a regulated term. It means that brands can have different meanings for the term. It is up to the consumer to assess what the brand is trying to sell and whether it would prevent an allergenic reaction. Nevertheless, based on our research and customer reviews, we have managed to come up with various brands that have the best products for people with sensitive eyes and skin.
So, let's start.
1. Clinique
It is a US-based skincare brand, and you can find it in high-end retail stores. Although the products are a bit expensive, they are worth the money. We can safely conclude that they offer the best mascara for people with sensitive eyes. They sell other products such as fragrances and toiletries. Emilia Clarke is currently the brand's global brand ambassador. It goes to show that the brand is definitely reputable.
2. Marcelle
This brand's history can be traced back all the way to 1874. The founding principle of this skincare business was to use science to promote better skin care. In 1933 it was acquired by an allergist who can be credited with the shift toward hypoallergenic products. Today, Marcelle is one of the top choices for people looking for hypoallergenic products. One of the testaments to its quality is that it is the most certified brand in Canada. It has 50 products that are certified by the Canadian Dermatology Association Skin Health Program. If that's not enough to convince you then you will be happy to know that its eye makeup prices are quite reasonable. You can buy high-quality mascara for as little as PKR 1500.
3. Tarte Cosmetics
It is another US-based skincare brand that is widely regarded for its product range. One of the standout things about this brand is that it has created a list of ingredients which they do not use in its makeup products. A person with sensitive eyes or skin can simply look at the list and see if their allergen is included. Undoubtedly, this is a great way to enhance user trust. Most Tarte products are made from naturally derived materials, meaning there is not much to worry about.
4. Tower 28 Beauty
If budget is an issue, we recommend this brand. They work with the same chemists as your top-end luxury brands but their prices are only a fraction of what they charge. It is one of the makeup brands in the world that adhere to the National Eczema Association's Ingredient Guidelines across all its products. What does it mean? Even people with the most sensitive skin can buy them without worrying about an allergic reaction.
5. Youngblood Mineral Cosmetics
While clean products are becoming mainstream now, it was not the case about 10-20 years ago. Despite it, this brand started off as a clean skincare brand with the sole focus on improving skincare without any harmful effects. The brand is committed to using naturally derived ingredients that are known for their nourishing qualities and little to no side effects.
Conclusion
As Christmas and New Year 2023 are around the corner, it is the best time to buy the best hypoallergenic eye makeup products for sensitive eyes and be party ready.
Caution: You are advised to do your research before giving any eye makeup brand a permanent place in your makeup bag.
Also Read: 14 Best Groom Makeup Tips That Every Man Should Know
Post credit: Humza Ahmad Barlas, Pakistan