Prepping for your marriage? I know planning and prepping for the wedding day need so much attention to every little detail. And in all the hustle bustle of wedding preparation, we often miss on the most important aspect of D-day. Yes, you guessed it right. It is bridal makeup and bridal hairstyle. Even if you have the best MUA to help you out for your wedding makeup looks, knowing how to do bridal makeup is your best bet.
Here are the steps of bridal makeup every Indian bride should know:
Bridal Face Makeup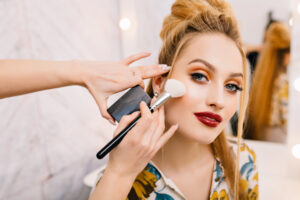 Cleanse your face with a natural facial cleanser.

       

Now, use some ice before you start the steps of bridal makeup. It will help close the pores so that you may not sweat and your makeup stays longer.

       

Use bronze powder to warm your skin.

       

Now, prepare the base by using gel primer.

       

Pick the gel-based foundation to make sure it does not run out.

       

To balance the extra sheen on your face, apply some neutral and light dusting powder.

       

Pick the golden-toned concealer to compliment your skin in the camera light. Avoid choosing pink-toned concealer.

       

Contour your face in a way that the definition may not make your face look too sharp. A well-defined face with great cheekbones is the demand of wedding photographs.
Bridal Eye Makeup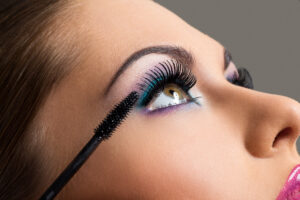 Go for threading to shape your brows at least 2 days before your wedding day.

       

Use gel or brow powder to fill in your eyebrows. Don't give a very sharp shape to your brows. The eyebrows look should be soft for an Indian bride.

       

Curl your lashes and use eyelash extensions to catch maximum attention to your eyes.

       

Use waterproof mascara and don't overdo it. Make sure to use mascara in balance so that there may be no clumps on your eyelashes.

       

When using eyeliner to define your eyes, prefer gel-based and waterproof formula as it works better and lasts longer.
Bridal Lip Makeup
       

Moisturize your lips with lip balm. Wipe out the extra.

       

Define your lips with a lip liner.

       

Fill in with the same liner before using your bridal lipstick.

       

Now, paint your lips with lipstick. Use warm shades of red lipstick.

       

Your lip liner should be the closest match of the lipstick.
Bridal Hairstyle
       

A perfect bridal hairstyle session starts with getting a regular hair spa 2-3 months before the wedding.

       

Follow your regular hair care routine of shampooing and conditioning.

       

Choose your favourite bridal bun, braid or other hairstyles you like and get it done by the hair expert.

       

Accessorize your hairdo with Gajara, bejewelled clips and other hair accessories. But don't burden your hair with too many accessories as it may loosen your bridal hairstyle.

       

Don't opt for a down hairstyle without much styling. It's your big day, not a small event to go minimalistic hairstyle.
Bridal Makeup Tips
       

Avoid using talcum powders in your entire bridal makeup regime for your wedding ceremony.

       

Keep the shimmer minimalistic and do not use actual glitter anywhere on the wedding makeup looks.

       

Choose a foundation of gold-toned but your blush and lip makeup should be red or pink-toned.

       

Go for powder blush if your skin is oily and cream blush if your skin is dry.

       

Let your makeup artist be always around you with the emergency bridal kit containing lip colour, beauty blender, makeup brushes, blush, cleanser, eyeliner, mascara and other beauty essentials.

       

Don't hesitate to take a short break from the wedding functions to fix your makeup if needed.

       

Follow the classic makeup look to get picture perfect look.

       

Don't change your makeup brand for wedding makeup looks at the last moment. Decide it at the time of pre-bridal makeup only.
Carrying your bridal makeup and bridal hairstyle perfectly throughout the day in the crowded wedding hall needs some practice and a lot of patience. With this bridal makeup tutorial, you can get a flawless wedding makeup looks for your D-day.
Good luck for your happy married life!