It is not only cosmetics and makeup products that change with time, but the skin care trend also changes with every season and year. Skin care products change and so as our skin requirements. Of course, the basic CTM routine (Cleanser, Toner, Moisturizer) remains the same and you must not miss your AM and PM routine of CTM skin care. But you need to revamp your skin care routine as you head towards the end of 2022 and enter 2023. 
Skin care trend 2023
Here, we have thrown some light on what the skin care industry will be coveting in the next 12 months in 2023.  
1. Skinimalism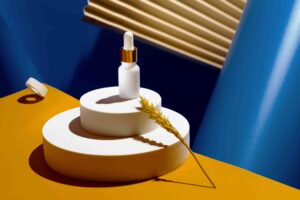 Minimalist products for skin and hair have been topping the trend since 2022 and this skincare trend does not seem to die down even in 2023. Skinimalism has taken the beauty industry by storm. Now, people are increasingly ditching their 10 steps skin care routine and embracing a simplified version. Since people are shifting to a 'no-makeup makeup look' or 'minimal makeup looks', skin care products run into colour cosmetics to catch up with this beauty trend in 2023. It's high time to stock up your skin care aisle with multitasking/minimalist makeup products. 
A less is more approach gonna see great heights this year. So, BB cream/CC cream that works as a foundation, sunscreen, concealer and other makeup products will see a high rise in demand. 
Related Article: Minimalist Skincare & Beauty Routine – The Hottest Trend In 2022
2. Sustainable beauty
While sustainable skin care has been around for a couple of years, it has been the norm now and it is here to stay like forever.  Recyclable packaging, refillable bottles and natural skin care products have become the mainstream. Even "green beauty is the clean beauty" seems to be the new beauty mantra of 2023 skin care trend.
2023 will be all about formulating environmentally friendly and organic products, free from waste and chemicals.
3. Natural beauty is the new norm
Our skin is the reflection of our emotional and mental states. What goes inside the body, reflects outside on the skin. Today's generation has been smarter than ever, and they know the importance of healthy eating and healthy thinking. 
Therefore, the current beauty trend seems to walk on the principle of 'beauty starts from within'. The year 2022 was about no-makeup makeup look, neon makeup or natural skin care but the year 2023 seems to emphasise more on natural beauty. In the 2023 skin care trend, the focus would be on regular exercise, a balanced diet, quality sleep, stress-free life and healthy lifestyle habits. It will help you get the healthy glowing skin from within that you always wanted.
Remember, your lifestyle choices leave a great impact on determining how your skin ages. So, invest your time and energy in making mindful choices.
4. Niacinamide and Ceramide will capture skin care trends in 2023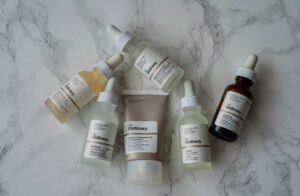 Niacinamide and Ceramide are vitamin B3 derivatives, which are going to be skin care heroes in 2023. While these active ingredients have been in use for a few years now, they seem to make a must-have place in everyone's skin care routine in 2023.
Benefits? They help treat brown spots, protect from free radicals, prevent premature ageing, improve skin tone, minimize pore size, reduce acne and bring out a brighter glow. The best part? Niacinamide and ceramide are all skin types, and you can use them daily. So, if you haven't given them a try yet, make your new year resolution to add these beauty essentials to your skincare regimen. You can find Niacinamide and Ceramide in face wash, body wash, moisturizer and other skin care products.
5. BHAs and AHAs are skincare heroes
AHAs and BHAs have become the latest buzzwords in the beauty industry. While these two active ingredients have skyrocketed in the skin care market in 2022 also, they seem to be the hero ingredients in skin care products in 2023. Thanks to their proven ability to resurface the skin!
| | | |
| --- | --- | --- |
| Acid Name | AHAs | BHAs |
| Full Form | AHA stands for alpha hydroxy acid.  | BHA stands for beta hydroxy acid. |
| Common availability | Most common AHAs are Glycolic acid, Lactic acid and Citric acid. | Most common BHA is Salicylic acid. |
| Derived sources | Extracted from sugarcane or other plant-based sources. | Obtained from willow bark. |
| Benefits | Exfoliates and removes dead skin cells so that more evenly pigmented cells may generate at their place. | Penetrate deeper into pores, alleviating clogged bores and breaking down acne. |
| Good For | All types of skin. | Oily and acne-prone skin. |
6. Rock 2023 skin care trend with Hyaluronic Acid
While this active ingredient comes with the word 'acid', it is neither AHA nor BHA. Hyaluronic Acid in skin care products is a natural humectant that helps restore skin's natural moisture, plumpness and firmness. This active ingredient in cosmetics and skin care also has anti ageing properties that smoothen wrinkles and fine lines.
7. Be beautiful with Blush
With trends like 'Blush Draping' and 'Sunburn Blush', blush has made a huge comeback in the makeup world and is not likely to fade away anytime soon. Even it is a beauty staple that will add a dash of colour to your skin, giving you a bold yet soft finish. 
8. 15 minutes of face massage with rose quartz and jade rollers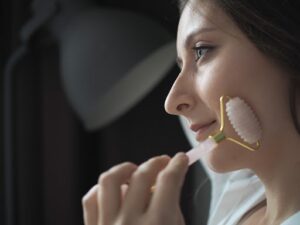 Rose quartz and jade rollers are the hottest beauty staples in the skin care industry that impact reducing fine lines, wrinkles and puffiness. The best part: There is no pain and no downtime, just 15 minutes of face massage and you will notice the visible difference soon. For sure, rose quartz and jade rollers have made their safe place in the 2023 skin care list.
Remember, rose quartz and jade rollers are easy fixes but not quick fixes. So, if you are expecting any miracle cures, these skin care tools are not for you. Be consistent and you will get great results.
9. DIY Skin tech devices like LED Face Mask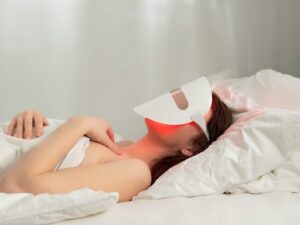 As we head towards entering 2023, people are driving crazy to make their skin care routine more simplified and tech advanced. Understandably, people are keener on what they are spending and what they are applying to their most prized possession, SKIN. They look for easy and instant products that can target a number of skin concerns without digging a hole in their pocket. Not to mention, something that can save them from monthly expenditure spent on salons/beauty parlours and streamline their beauty routine simultaneously.
In 2023, nothing but an LED face mask seems to be a must-have beauty gadget at every home. From a multitasking device to a DIY home gadget, an LED face mask is the ultimate rescue for all who want to level up their skincare game. Benefits? This next-generation therapy helps increase blood circulation, prevent acne breakouts, stimulate collagen production, reduce the appearance of ageing signs and bring out a youthful glow.
Caution: If you are dealing with any skin issue like acne, eczema etc., consult with your skin care specialist before adapting to a skincare trend.
10. Permanent makeup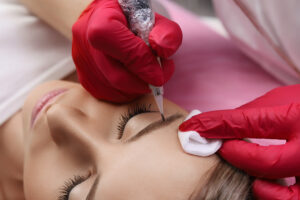 Permanent makeup seems to be the hottest skincare trend in 2023. While permanent makeup is nothing new in the beauty world, its craze seems to see its highest peak this year. Semi permanent or permanent makeup is an injectable treatment that helps improve the appearance of lips, cheeks, eyebrows, eyelashes and the overall face. Not everyone can embrace the permanent makeup trend due to the fear of needles but for the ones who are fearless, permanent makeup can make a big difference.
This beauty trend 2023 can be the new year resolution for anyone who wants to save their skin from the daily dose of makeup products whilst reducing their morning makeup time.
Related Article: Permanent Makeup – A Bride's Big Day Rescue To All The Makeup Woes!
11. Bakuchiol – natural alternative to retinol
When it comes to skincare trends, the use of retinol is nothing new to users. We all know the benefits of using retinol in the night skincare routine, but 2023 might come with some inventive ways to use this active ingredient. It seems, Bakuchiol – a plant based alternative to retinol will be incorporated into more skin care products.
Benefits? It helps brighten up dull patches, even out skin texture, reduce ageing signs, fade away dark spots and improve overall skin appearance. 
Conclusion
These are just a few of the hottest skin care trends that seem to make their way in 2023. You can pick to follow one or all of these trends but whatever skincare trend you choose, be sure to be consistent with the same to achieve the desired results.
Also Read: Winter skincare routine for men and women