Dreaming to look breathtakingly beautiful on your big day? Worry about crying too much as it may wipe out all your makeup and turn your pretty fairy looks into a hobgoblin appearance? Looking to wake up with perfectly defined lips, brows and liner each day even after many days of marriage? Permanent makeup is the answer!
Want to know more about permanent makeup? Let's dig in!
Every bride has a close desire to make her boy breathless from her flawless look on the wedding day. After months of planning and preparation, the arrival of the big day can seem quite awe-inspiring. Nonetheless, oodles of tears rolling over your cheeks, plenty of kisses and high temperatures can hinder the way a bride maintains a perfect look all day long. To enhance your natural look and maintain the makeup for many days long, permanent makeup can be the answer.
Whether you desire to accomplish a full glamorous look or a few subtle touches, permanent techniques can aptly address all your needs and bring out the best of your features. So, forget about touching up your makeup over and above again and enjoy your day to the fullest.
What is permanent makeup?
Permanent makeup, also known as semi-permanent makeup is a great way to beautify the look and boost confidence. It is a new and manual method to create a natural look by placing the pigmented granules beneath the upper layers of the skin.
In the procedure, an experienced makeup artist/technician uses the right combination of pigments to complement the skin tone and enhance the natural features. The makeup technician assesses the facial features of the person and uses pigments. The procedure may beautifully enhance the natural beauty of the face.
This cosmetic treatment is pretty similar to the tattoo technique. However, unlike the regular tattoo, it can help to define eyebrows, enhance the eyes, contour lips, and add a dash of color to cheeks. Creating a natural hair stroke to suit your facial symmetry, this beauty treatment helps enhance the facial features. Using fine and natural strokes, the aesthetician works closely with your skin tone, along with the natural contours of your face. It helps to correct skin imperfections and acne scars.
Some fast facts about permanent makeup
The treatment is safe and is carried out with the highest hygiene standards.
A topical anesthetic cream is applied to the skin before the procedure to numb the targeted area.
It is a relatively pain-free procedure.
The procedure takes around 90 minutes and the achieved outcome lasts somewhere from 6 months to three years.
Permanent makeup allows people to look great all the time because there is no smudging after swimming, raining, or after working out at the gym.
What area of the body can be suitable for permanent makeup?
Eyebrows: Permanent makeup like microblading is applied to the eyebrows to improve the shape and definition of the eyebrows and to frame the face.
Lashline: It can also be done to the lash line to enhance the natural eye line and make the eyes appear bigger.
Cheeks: With this beauty technique, you can add permanent color to the cheeks and get rid of the monthly expenditure of blush.
Lips: Besides improving the appearance of eyes, permanent makeup improve the appearance of lips and lip borders. It helps to achieve fuller and more defined lips.
Microblading or Eyebrow Tattoo:
With the passage of time and aging, the eyebrows tend to lose their shape and appear thinner than ever. Since eyebrows play a big role in defining the natural contours of the face along with enhancing the facial feature, shaping them is a must, especially on your special day.
While you can define your brows using the makeup products also but nothing will give you a lasting effect. Moreover, there is a big risk of getting smudges due to sweat, water, or tears. However, it will never be the case with permanent eyebrow treatment, also known as microblading or eyebrow tattoo. You can stay sure to have the most natural-looking eyebrows with this cosmetic procedure.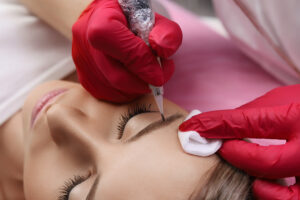 Permanent Eyeliner Tattoo:
Who doesn't want perfectly defined eyeliners? Aren't you? Not to speak of the bride-to-be, every girl wishes to have beautifully defined lash lines whenever she heads out. Sadly, very few of those girls know the art of applying eyeliners seamlessly. Worry not! A permanent eyeliner tattoo is an answer.
The makeup treatment deposits color on the lash line to recreate the look of eyeliner that girls painstakingly apply every time they head out.
It's similar to lip tattooing and microblading. So, if you don't know how to apply eyeliner or don't have time for daily eye makeup, a permanent eyeliner tattoo is the best choice for you.
Permanent Makeup For Cheeks:
Girls who look to glam up the apple of their cheeks but can't find time to do it every morning, can go for the permanent blush and flaunt the rosy cheeks without any hassle. Permanent makeup for cheeks adds a dash of color to the targeted area of the face and gives the younger glow at all times.
Now you need not worry about looking less colorful because cheek tattooing will let you enjoy the beauty of blush 24/7.
Every bride desires the perfect pout on her big day. Of course, you can use lip beauty products to shape and color your lips. Great! But there is a big risk of transferring the lip color on glasses when you ship the drink and on the cheeks when you kiss your boy. Won't it be quite an awkward moment when the color of your lips is found on glasses, cheeks, and other feasible places?
Well, if you don't want to end up facing such awkwardness, opt for a lip tattoo or permanent lip makeup treatment. This kind of beauty treatment helps to create a gentle flush of color on lips along with a soft outline. The treatment can also correct any imperfections on lips as well as minimize aging on lips.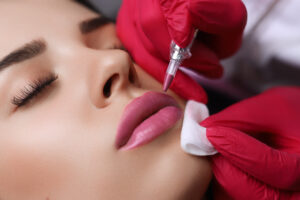 Who can opt for permanent makeup?
For everyone (Beauty Beyond Boundaries): The makeup technique is for one and all. No certain category of people can be restricted to get benefited from this cosmetic treatment. This is the reason that this beauty technique is loved by both men and women.
People have no time for makeup: It is actually a bliss for people who have little time to spare to apply makeup regularly and those who don't like to carry a big makeup bag with them for the little touch-ups.
Who doesn't know how to apply makeup: If you don't know how to apply makeup like a professional makeup artist, permanent makeup is the solution.
People with disabilities: It is also used by people with disabilities such as neurological weakness or tremors who may find it difficult to apply makeup evenly every day.
Those who have an allergic reaction to makeup: Permanent makeup is a great cosmetic treatment for people who are allergic to cosmetic products and can't apply makeup regularly.
For sportspersons: The cosmetic treatment is the best rescue for sportsmen and women because they can focus on their goals without worrying about smudging after raining, swimming, or sweating at the gym.
People with skin imperfections: Finally, semi-permanent makeup can be used in people with scarring of the lip line or eyebrow to reduce the appearance of the scar.
Conclusion:
Permanent treatment aims to strive toward making every bride look beautiful and feel beautiful. So if you truly dream to transform your beauty regime and glam up on your big day, just go for the permanent makeup!
Gone are the days of the daily makeup trend. It is the age of permanent makeup techniques. This is the reason that the craze of permanent makeup is on its greatest hype.
The current population is too fond of this beauty technique. Why should you lag behind? Go and glam up, girls!
Liked this blog? Share it with your friends and family to spread awareness.