Everyone loves to have naturally glowing skin. Obviously not any one of us would prefer to conceal our face with cosmetics, makeup, and beauty products constantly. We want to look naturally beautiful as a core part of self care. Right? But getting natural flawless skin is not that easy, because acne, pimples, dark circles, oily skin, and the harsh rays of the sun all are responsible for making our skin look dull. While there are so many skin care tips and tricks out there, it can be hard to know which ones actually work.
Worry Not, naturally glowing skin is still possible. In this blog post, we will discuss the dos and don'ts of achieving naturally beautiful skin. By following these skin care tips, you will be on your way to getting flawless skin like Korean glass skin in no time.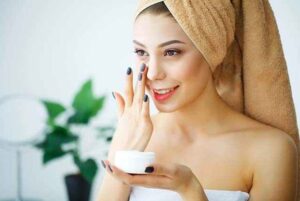 Do's for your skin
There are certain skin care tips that you need to follow in order to get beautiful skin naturally.
Workout for naturally glowing skin:
If you workout on a regular basis, your skin will get beautiful because exercise makes your skin healthier due to the increased blood flow during the exercise. But before you get a membership to the gym, to get indulged in some workouts for skin care, make sure you are wearing a comfortable gym outfit. It is so because if your gym workout clothes are not compatible with your skin, you won't be able to give your maximum performance.
Moreover, exercise improves blood circulation and helps to keep your skin cells healthy. It also helps to reduce stress, which can cause problems for your skin. So try to do some exercise regularly. If you don't want to go to the gym, you can do indoor exercises such as walking or running on a treadmill, or practicing some yoga techniques. As said above, don't forget to wear stretchable and sweat-absorbing gym workout garments to make your workout more productive.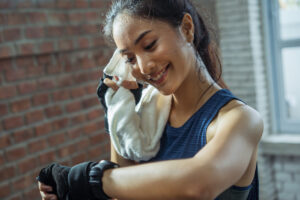 Skin cleansing:
Just make sure you clean your face before going to bed. Don't let the dirt and sebum stay on your skin and attract bacteria, which can cause pimples.
Use a mild cleanser or face wash according to your skin type. Don't overdo it. Washing your face too often can also damage the natural barrier of your skin, making it dry and dull. So, don't overdo it. Just clean your face whenever it feels dirty or before going to bed.
When you are outside in the sun, your skin needs protection from the harmful UV rays of the sun which can cause sunburn, tanning, acne, redness, and other skin problems. So, always use sunscreen with SPF 30 or higher according to your skin type before stepping out in the sun. And don't forget to reapply it after every few hours if you are staying outdoors for long.
Eat healthily and stay hydrated:
A healthy diet is very important for your skin as well as your overall health. Add lots of vegetables, fruits, whole grains and low-fat dairy items to your diet. These foods are rich in nutrients that are good for your skin.
Also, drink lots of water, at least eight glasses a day and avoid too much sun exposure. You can find Vitamin C in many different fruits and vegetables, so make sure to include them in your diet if you want to improve your skin health! Add Omega-three fatty acids to your diet as it helps reduce wrinkles and also helps to soften the rough and dry skin.
As you know that hydration is not only drinking water but also having other fluids and foods. Cucumber can do wonders to your skin if you use it in the right way and at the right time. It has a lot of water content which helps in hydration. Also, it has cooling properties which can help reduce puffiness.
Exfoliate your skin on a regular basis:
You must exfoliate your skin once a week, it will help slough off dull and dead skin cells. Along with that, you can use any natural oil for massaging your skin before taking a bath. It helps in blood circulation and relaxes you as well. Massage for at least five minutes daily with any essential oil of your choice that suits your skin the most. For example, jojoba oil, olive oil, or coconut oil would be great options.
Don'ts for your skin:
There are certain steps that you need to avoid if you need to have naturally beautiful skin.
Do not rub your pimples:
When you have acne, it is important that you keep the area clean. You can use mild soap and water as using harsh chemicals can irritate the skin. There are so many over-the-counter medicines and home remedies that you can try. If these do not work, you need to see a dermatologist. Also, most people pop pimples if they appear on their skin, which is not good for your skin health. It's because it can cause redness, and leave scar on your skin which can look weird. So, DO NOT try to pop up your freckles.
Quit smoking, and alcohol:
Avoid smoking because the more you smoke, the sooner your skin will turn old. The nicotine in the cigarette is responsible for making your blood vessels constricted, which could ultimately restrict the flow of oxygen to every part of the skin. So quit alcohol and smoking for good skin, not just for the sake of your health.
Don't eat too much spicy food.
Spicy foods can also cause or worsen gut inflammation. This is because the spicy compound in peppers, capsaicin, can irritate the lining of the stomach. This can lead to acid reflux and an upset stomach. If you have a sensitive stomach, it's best to avoid spicy foods altogether. If you do eat them, be sure to drink plenty of water and take an antacid if needed.
Some people are also more prone to skin redness after eating spicy foods. This is due to the increase in blood flow that spicy foods cause. If you notice your face getting red or feels hot after eating spicy food, the best skincare tips is to drink some cold water or applying a cold compress to your skin.
Do not let your skin get dry:
After washing your face or even in the dry season you might have noticed that your skin gets dry and lose its natural glow. So, if your skin starts getting dry and dull, use olive oil.
It can help to smooth out the roughness and restore some of the lost lusters. Just remember to avoid using too much, as this could end up clogging your pores. Overall, olive oil is a great natural option for keeping your skin healthy and hydrated.
These are the top skin care tips to naturally glam up your skin from the inside out.
Also Read: Best Makeup Products For Beginners In 2022
Post Credit: Ann Edwards from Elite Sports