There are many makeup brands in the world, and many are being launched every year even a professional makeup artist gets confused about what to pick and what to leave. If you spin your head in the current beauty market, you will see that there are an endless number of products and formulations available than ever before.
Party makeup, bridal makeup, no makeup makeup look, or office makeup look – no matter what type of makeup look you want to achieve, there is a brand with an array of makeup products that can help you achieve the look you desire. So, to ease your quest to find the best makeup brand in the world, here is a hand-curated list of the top makeup brands in the world. From iconic legacy brands to contemporary trendsetters, let's dive into the enchanting world of makeup brands that have set the beauty industry abuzz.
Also Read: How to buy the best skin care products as per your skin type?
7 Top Makeup Brands in the World
Makeup knows no introduction. In the dazzling realm of beauty and fashion, makeup holds a special place as a transformative technique to express yourself, accentuate your features, and enhance your overall look. Makeup is not just about looking good; it's a way to show personality, confidence, and creativity.
So, without further ado, let's embark on a journey to explore the crème de la crème of makeup brands, each making its mark on the beauty industry and captivating beauty enthusiasts around the world. From impressive newbies to pro makeup artists, this list is a sure-shot answer to how to apply makeup like a pro.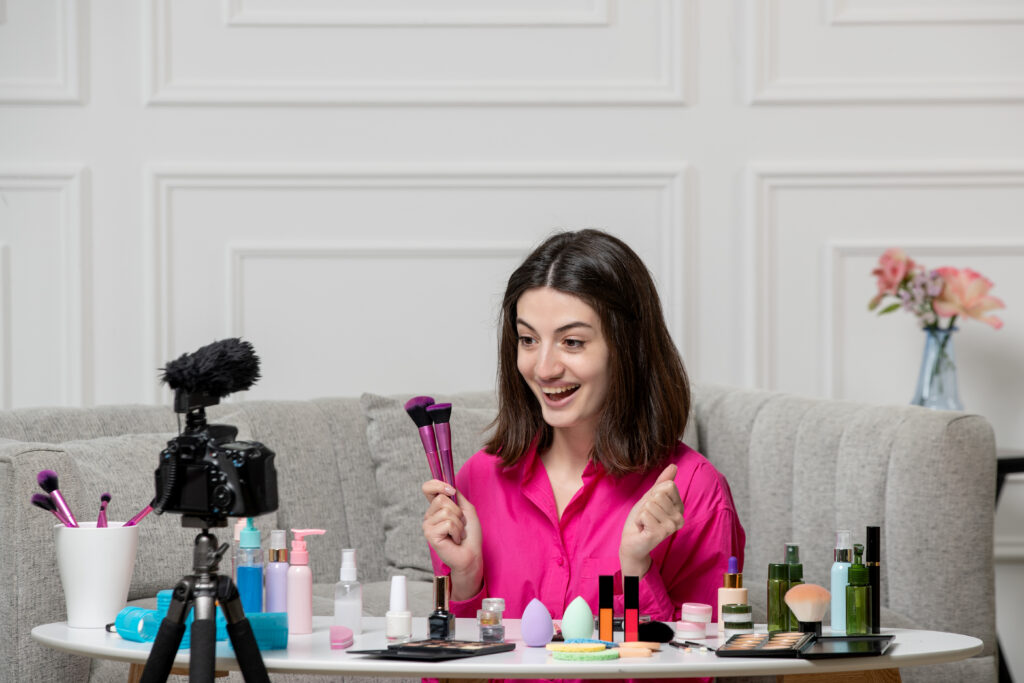 Dior: The Epitome of Elegance
Founded by Christian Dior in 1946, Dior has redefined elegance and luxury. With its Parisian origins, the brand brings sophistication to every product. Dior's timeless fragrances, opulent cosmetics, and iconic runway looks have set the standard for sophistication and grace. The brand's signature products, such as the Diorshow Mascara and the Diorskin Forever Foundation, continue to be beloved by makeup artists, marking Dior as a true pioneer in the beauty world.
Product Range
Dior's product range mirrors its commitment to elegance and luxury. Every Dior product is a masterpiece, from the exquisite foundations and concealers that offer flawless coverage to the velvety eyeshadows that create captivating looks. The brand's skincare-infused makeup further enhances the user experience, ensuring a harmonious blend of beauty and skincare benefits.
Hero Product: Diorshow Iconic Overcurl Mascara
Why: This mascara epitomizes Dior's elegance with its curve-enhancing formula, delivering voluminous lashes that frame the eyes, creating a captivating and timeless gaze.
MAC: The Art of Self-Expression
MAC Cosmetics knows no introduction when it comes to creating luxury beauty. Introduced in 1984 in Toronto, MAC Cosmetics has become synonymous with inclusivity and artistic expression. Their luxury finish, extensive shade range, and trend-setting collaborations, like the MAC x Selena collection, have made the brand stand out from other makeup brands, which celebrate their unique identities through makeup.
It is American singer Madonna who gave the first big breaks to M.A.C. by wearing its lipstick for a photo shoot in the late '80s. Since then, makeup lovers started noticing the brand.

Trivia
Product Range
MAC's product range is a canvas for diversity, inclusivity, and creativity, featuring an extensive selection of shades and textures. Whether it's the versatile Studio Fix Powder Plus Foundation or the vibrant and avant-garde collaborations, MAC ensures that each product is a testament to individual expression. Professional-grade quality is at the heart of MAC, allowing makeup artists to give wings to their creativity.
Hero Product: MAC Ruby Woo Lipstick
Why: Ruby Woo's vivid red shade complements all skin tones, embodying MAC's commitment to inclusivity. Its iconic matte finish and lasting power celebrate creative self-expression.
Maybelline: Beauty for Every Day
Founded in 1915, Maybelline has been one of the most loved makeup brands in creating everyday office makeup look and party makeup look alike. From its inception with a mascara formula, the brand has grown to offer a wide range of beauty products, including the iconic Great Lash Mascara, Fit Me Foundation, and so on. Maybelline's commitment to affordable quality has made it a household name, making beauty accessible to everyone every day.
Thomas Lyle Williams, a chemist, saw his sister Maybel using Vaseline, coal, and ash in her beauty routine. He got amazed and went on creating the first mascara ever, the Maybelline Cake Mascara. And it is how the brand got its name – 'Maybel' + 'Vaseline' = Maybelline!

Trivia
Product Range
Maybelline's makeup product range epitomizes accessible glamour for everyday life. From the iconic mascaras that create dramatic lashes to the flattering shades of the Fit Me! Foundation, Maybelline's amazing product range caters to a wide audience. The brand's dedication to delivering reliable, high-quality makeup essentials makes achieving glamorous looks effortless for anyone.
Hero Product: Maybelline Fit Me! Matte + Poreless Foundation
Why: This foundation is a go-to for daily glamour, offering a natural matte finish and minimizing imperfections. It is an ultimate beauty staple that embodies Maybelline's commitment to everyday beauty.
Estée Lauder: Timeless Glamour Estée Lauder
Estée Lauder is a testament to the power of a visionary entrepreneur that combines the essentials of skincare and makeup, focusing on enhancing natural beauty. From the Advanced Night Repair serum to the Double Wear Foundation, Estée Lauder's beauty essentials bridge the gap between beauty and skincare, offering a holistic approach to timeless radiance. Estée Lauder's unwavering commitment to research and innovation ensures that each product reflects the brand's legacy of timeless beauty.
Product Range
Estée Lauder's product range, like the Advanced Night Repair Serum and the Double Wear Stay-in-Place Foundation, is designed to provide both cosmetic benefits and long-term skincare advantages.
Hero Product: Estée Lauder Double Wear Stay-in-Place Foundation
Why: Renowned for its long-lasting, full coverage and natural-looking finish, this foundation encapsulates Estée Lauder's dedication to enduring beauty and high-quality formulas.
L'Oréal Paris: Because You're Worth It
L'Oréal Paris, with its famous tagline, "Because You're Worth It," is one of the most popular makeup brands in the world, with a range of haircare, skincare, and makeup lines. From the iconic Voluminous Mascara to the True Match Super Blendable Foundation, L'Oréal Paris focuses on delivering exclusive self-care products that cater to a global audience, making beauty accessible to all.
Product Range
L'Oréal Paris's emphasis on product research, quality, and accessibility makes luxury beauty attainable for everyone. Its product range is a celebration of inclusivity and global beauty. With a wide spectrum of shades and formulations, products like the Voluminous Mascara and the True Match Super Blendable Foundation cater to diverse skin tones and preferences.
Hero Product: L'Oréal Voluminous Lash Paradise Mascara
Why: With its volumizing formula and soft brush, this mascara captures L'Oréal Paris's ethos of making luxury accessible, enhancing lashes for a bold, alluring look.
NARS Cosmetics: Artistic Expression
Founded by François Nars in 1994, NARS is a French cosmetics and skin care company that celebrates the art of self-expression through makeup. Known for its provocative shade names and innovative formulations, NARS Cosmetics encourages makeup lovers to step out of their comfort zones and embrace their individuality. The brand's iconic Orgasm blush and audacious lip colors have become cult favorites, embodying the brand's ethos of embracing creativity without boundaries. NARS beauty products are known for their rich pigments, luxurious textures, and unique shades that inspire makeup enthusiasts to explore their artistic side.
Product Range
NARS product range embodies the artistry of makeup, featuring a bold array of shades and textures that encourage creative expression. The iconic Orgasm Blush and Audacious Lipstick collection demonstrates the brand's commitment to pushing boundaries.
Hero Product: Nars Orgasm Blush
Why: This universally flattering blush, with its golden-pink hue and subtle shimmer, embodies Nars's artistic expression by adding a luminous flush to cheeks, transcending traditional boundaries.
Urban Decay: Embrace Your Edge
Urban Decay disrupted the beauty industry with its unique range of beauty and makeup products. The brand's provocative shade names and iconic Naked palettes have carved a niche for Urban Decay in the hearts of makeup artists. By embracing bold colors and unique textures, Urban Decay empowers makeup lovers to express their inner rebels and push the boundaries of traditional beauty norms.
Urban Decay is one of the top makeup brands in the world that is cruelty-free and offers a vegan range as well.

Trivia
Product Range
Urban Decay's product range exudes beauty and boldness, offering an eclectic mix of shades and finishes. The Naked Eyeshadow Palettes and Vice Lipstick collection showcase the brand's daring spirit and commitment to pushing beauty boundaries.
Hero Product: Urban Decay Naked3 Eyeshadow Palette
Why: A cult favorite, this palette's rosy-hued shades and versatile textures represent Urban Decay's bold and edgy spirit, inspiring diverse eye looks that push the limits of creativity.
Conclusion
The makeup world is a canvas on which these top makeup brands in the world have painted their legacies of elegance, exclusiveness, and innovation. The unique journey of each of these beauty brands has redefined beauty standards, transformed the way we express ourselves, and empowered makeup artists to express their creativity to the fullest. As you explore the diverse product ranges of these top makeup brands, you'll find yourself immersed in a world of endless possibilities, where makeup becomes a vehicle for self-expression and a celebration of individuality.