Looking forward to making heads turn this summer? Do it with trendy hair highlights.
Why?
Because many hair trends may come and go, but hair highlights are forever. Indeed, it is one of the most popular and persistent hairstyling techniques to flaunt beautiful tresses. So, go creative with hair color ideas that may perfectly complement your look this summer and make you the head turner in the crowd.
So you have made up your mind to color your hair? Great! The next big move you should make now is to find the perfect hair color for you.
How to choose the hair highlights color for your hair?
It is summer, and a makeover is always welcome! The easiest and most enticing way to look fab is to get some hair highlights. But hair color choice to highlight your hair is not as easy as simple Black and Brown. When thinking of hair color ideas, you might get confused about which color to pick as the options don't end at just one style. Brown balayage, ombre hair color, caramel highlights, balayage hair color, red highlights, and balayage on brown hair are just to name a few of the trending highlights hair color options.
The summer color palette throws out limitless options. For instance, within the range of brown hair with blonde highlights, you have dissimilar hair color choices like platinum blonde, strawberry blonde, dirty blonde, light ash blonde, silver blonde, honey blonde, beige blonde, and many more.

No wonder you get confused between the different hair color ideas and hair highlights techniques like Babylights, Lowlights, and Highlights. What's more? The beauty store is mushroomed with endless varieties of DIY hair coloring kits to get the shades of your choice.
When you go for lighter hair color, it is hair highlights.
When you want a darker hair color shade to add depth and dimension to the hair, it is lowlights.
Instead of coloring the whole hair, when you prefer to color tiny sections of hair in a foil, it is babylights.
According to hair care experts, there is no specific rule to choose the perfect hair color for you. It is simply a matter of choice whether you want to glam up your style with balayage color, ombre hair color, caramel hair color or such highlight trend. All you need is to be versed with some hair care tips, terms, and techniques to determine the right hair color ideas that suit you.
You May Also Like: Top 9 hair care products to regrow hair naturally in 2023
Forget about the color wheel. First, define your goal:
Before you sit in a hair salon to get your hair colored, figure out what is your hair care routine and why have you opted for hair highlights. Let's count the possible reasons: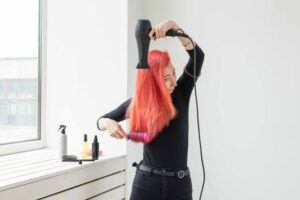 Darken the hair color:
Since people living in the UK, USA, and Australia often have hair within the standard blonde hair color range, they prefer to get their hair darkened. Check out with your hair care experts to know the right shade for your hair.
Lighten the hair color:
Remember, a lighter hairstyle requires bleaching, which can cause possible damage to your hair health. Thus, before opting for a lighter hair coloring technique, understand how to care for colored hair. People living in India have no hair color choice than lighter hair highlights as they have signature dark hair.
Accentuate the natural hair color:
Even if you don't like getting lighter or darker hair highlights, your natural hair color also screams for occasional coloring techniques to break off the stereotype. Opting for two shades darker or two shades lighter will harm you in no way but enhance your natural hair look.
Hide your grey hair:
People struggling with grey hair problems can go for hair dye or hair color ideas to cover their grey hair and flaunt their hair highlights.
Love the vogue of hair highlights:
Hair highlights are in vogue. Hair specialists use this technique to add depth and dimension to all types of color. So, if you are the one who loves catching attention with their unique style, hair highlights are for you.
Find out what your specific purpose is to go for hair highlights and choose a hair color that suits your goal.
Explore More: Summer Hair Care Routine – Every Man & Woman Should Know
Pick a hair color that matches your eye color and skin undertone!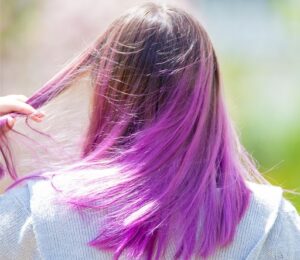 Start with the eyes:
Hair stylists suggest finding a hair color that matches the tone of your eyeball. For instance, if you possess cool eyes, cool-toned colors will add a gem to your hair style. If your eyes are blue, platinum highlights will look fab on you. If you have brown, green, or grey eyes, blonde highlights will look flattering on you. If your eyes are deep green or dark brown, brown highlights will complement your look.
Match with the skin undertone:
All skin colors fall into three undertone categories:  WARM, COOL, and NEUTRAL. If your skin is pinkish, you have a cool undertone, and if you have dark skin, you have warm undertones. If you have neither dark nor light complexion, you have a neutral undertone.
Find a color that can neutralize your undertone. For instance, if you are cool-toned, opt for a warm-toned shade of your favorite hair color, and vice versa. If you have a neutral undertone, both warm-toned and cool-toned shades of your desired color will look fab on you.
Quick Tip

If the veins on your wrist look blue, you belong to the cool group, and if they look green, you belong to the warm group.
To pick the perfect match for you make sure that the color you choose can rightly complement your undertone and eye color as well. You had better consult a hair expert to find the best match for you.
Summer hair highlights trend 2022: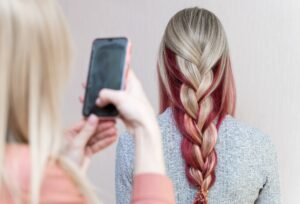 One of the best hair highlight trends of summer 2022 is the surfer look. In the surfer look, hair remains dark at the roots, gradually getting lighter towards the ends. If you have a brown complexion, going all blonde is a big no. What would be best for you is to go lighter at the end!
Another hair highlights idea trending in the hair care industry this summer is platinum blonde. But stay careful with this trend as it calls for little touch-ups every week so that the roots may not show. If you want something less pricey for your blonde hair, beige-gold would be the right answer for you.
One tip for this summer is to go bold. Bold shades are 'in' this summer. Think pink, purple, red, green, and even orange. The trick is to pick the right shade. Red works for both warm and cool tones. The pink undertone in your skin calls for auburn over red.  So, you can go red but be careful with its shades.
How to care for your 
hair color style
this summer?
To keep the color of your highlighted hair, avoid washing your hair so frequently.
Make sure to lessen the sun exposure because the sun is unkind to the colored hair.
Don't forget to cover your hair when it is essential to head out in the sun.
Stay away from chlorine and salt water as these both may harm your hair.
Prefer to wash your hair in fresh water to keep your hair color safe for longer.
Caution

Hair highlights are addictive! Once you slip into the style, you can't resist recoloring the hair over and above again. You will always want to experiment with new hair color ideas and hair highlights trends. Well, there is no harm to color your hair, but make sure to take care of your hair health.
Follow a hair care routine and recommended hair care tips to support healthy hair and flaunt lustrous locks forever.
Looking ahead to natural looking hair highlights
Somewhere we all have a hidden desire to change the stereotype and revamp our look. So, why not give a try to hair highlights this summer? Fashion fads, but highlights are forever! Whether it's highlights, lowlights, babylights, paste ombre, balayage, or traditional foils, the hair coloring technique is always a good choice to recast ourselves.
Also Read: 5 Best DIY Protein Treatments for Hair and Benefits