Summer is a great time of year, filled with the fun of outdoor activities, trips to the beach, breezy cocktails, cold showers, and sunshine. While most of us love summer, people with oily skin are definitely not a fan of what the hot and humid weather does to their skin. The scorching and blistering heat can cause several skin issues, including excess oil production, acne breakouts, clogged pores, shiny and greasy skin, and whatnot. It is why oily skin care tips in summer have been one of the most searched terms on search engines during the summer season. 
10 Best Oily Skin Care Tips For Summer
Considering the above-stated facts, here are some oily skin care tips to form an effective skin care routine for summer that will keep your skin looking fresh and shine-free throughout the season. Follow these tips and enjoy the summer without worrying about skin concerns.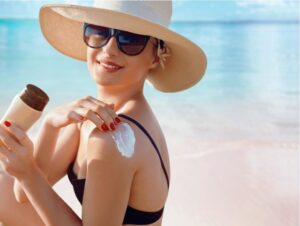 1. Keep Your Skin Clean
Summer skin care for oily skin starts with cleansing the skin. Even if it seems like a natural step of a skin care routine, doing it right is essential. Some people think that washing the face frequently will help keep the oily skin concerns at the bye, but it is a misconception. Cleansing your face twice a day is enough to remove excess oil, dirt, and impurities caused by sweat, dust, and pollution. Don't ever increase the frequency of face cleansing as it may strip off the natural moisture from your skin, causing it to produce more oil. Cleansing your face twice a day with a gentle face wash is adequate. However, you can use a face mist or a mild toner to refresh your skin for the rest of the day.
Avoid using hot water, and pick a gentle, oil-free, and non-comedogenic cleanser that suits your oily skin type. 
2. Use a Facial Toner
Some people often assume that using a toner is an unnecessary extra step of a skincare routine. However, a facial toner goes a long way in balancing your skin's pH levels and removing deep-seated dirt or impurities. Moreover, this gentle skin care product also helps tighten pores, control excess oil production, and tighten pores. 
For oily skin, use a toner that contains witch hazel or salicylic acid.
3. Exfoliate Regularly
Exfoliation is a crucial step in any skincare routine, but make sure not to over-exfoliate. Excessive exfoliation can cause flaking, redness, scarring, inflammation, and discoloration. When done in moderation, exfoliation helps remove dead skin cells, prevent breakouts, and unclog pores. 
Opt for a gentle scrub or chemical exfoliant once or twice a week to slough away dead skin cells. 
4. Apply Light Moisturizer
People with oily skin often have the misconception that using moisturizer will make their skin much oilier. Hence, they need to add moisturizer to their daily skin care routine. But do you know skipping moisturizer can cause your skin to produce more oil in order to compensate for the hydration loss? So, the solution does not lie in skipping the moisturizer rather, use a lightweight and oil-free moisturizer specifically formulated to suit oily skin type. 
When buying moisturizer for oily skin in summer, look for ingredients like glycerine or hyaluronic acid that helps hydrate skin without adding oil.
5. Use Sunscreen for Summer Sun Protection
The scorching sun in summer can cause various skin concerns, from sunburns to premature aging and skin cancer. Therefore, to protect your skin from harmful UV rays, never miss applying a broad-spectrum sunscreen even when you are not directly in contact with the sun. also, reapply it after every 2 hours when in the sun. It will help delay aging signs occurrence and provide healthy skin from within.
Use a lightweight and non-greasy formula with a minimum of SPF 30 or more that will give maximum sun protection without causing breakouts and clogging pores.
6. Redefine Your Makeup Routine
To prep your oily skin for summer, you need to redefine your makeup routine. Avoid adding too many layers of makeup products and embrace the minimalist makeup trend. In addition, avoid using heavy and oil-based cosmetics and pick lightweight and oil-free formulas. Use mattifying powder to control shine throughout the day.
Related Article: How To Apply Makeup – A Step By Step Guide
7. Try Micellar Water
Micellar water is a comparatively new addition to the skin care industry, which has proven to be a boon for oily skin care in summer. Micellar water helps wipe wipe-off the excess oil, sweat, and dirt that built up on the skin. The best part is it can be easily applied and does not require to be rinsed off. 
Drink 64 oz of water daily to hydrate your skin from the inside out.
8. Use Face Mask
Natural homemade face masks are the best bet to help you deal with oily skin problems in summer. DIY face masks made with sandalwood, multani mitti, aloe vera, etc., will give your skin a mattifying effect while removing impurities and delivering naturally healthy glowing skin in summer. 
Pro Tip,

Don't touch your face over and above again as it will bacteria and oil from your hands to your face.
9. Blot Oil Away to Control Shine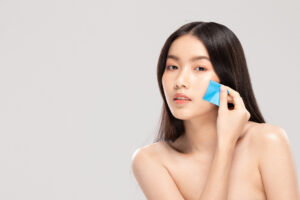 When it comes to summer skincare, blotting paper is your bae. It is a valuable makeup essential for oily skin care. This magical tool helps control excess oil to your skin, making you feel fresh and shine-free all summer long. You can use blotting paper throughout the day but don't overuse it, as it can strip your skin of its natural oils. Prefer using blotting paper made from natural ingredients like rice paper and stay away of using tissues, which can be harsh to your skin. 
10. Sweat-Proof Your Makeup
Summer and sweat go hand in hand, so when during makeup in the hit months, making your makeup sweat-proof should be your prime concern. The best way to sweat-proof your makeup is to use waterproof makeup such as waterproof mascara, waterproof eyeliner, transfer-proof lipstick, lightweight primer, oil-free foundation, and so on. The waterproof beauty products will help your makeup stay in the palace for longer whilst allowing your skin to breathe, minimizing the chance of trapping dust, oil, and sweat.
Don't forget to use a setting spray to keep your last longer, preventing it from melting with sweat.
Final Thought
These are some of the tried and tested oily skin care tips in summer suggested by skin care experts and beauty bloggers alike. You can combine these tips with your basic skin care routine, but before you make any significant change in your daily skincare, we advise you to consult with your dermatologist first.
Bonus Tip

Don't miss taking your 7-8 hours of beauty sleep every night. 
Overall, oily skin care in summer requires some effort and attention; but your skin deserves this much-needed pampering. By following some simple steps regularly, you can easily keep your oily skin issues at bay and unlock a healthy and radiant glow.
Also Read: Essential Steps of Skin Care Routine For Men