HAND CARE! Yes, you read it right!  Your hands need a little TLC too. We care for our face, hair and health but often put hand care on the back burner. Despite being one of the most used body parts, our hands often struggle to get a place in the self-care regimen. Be it a handshake, a friendly wave, operating a mouse and keyboard in the office, or doing daily chores at home, it is our hands that can make or break the impression.  Therefore, having a proper hand care routine in place is essential.
GlamUp Gallery Says,

"If you want to know someone's age, look at their hands, not at their face."
Hand Care Routine
To give your hands the needed care they deserve, follow the best hand care routine and get the youthful hands of your dreams.
1. Hand care hygiene
If COVID-19 has taught us anything good, it is using sanitizer and hand washing to cleanse our hands frequently. Indeed, cleansing hands is the most important step of the hand care routine. Though it is good for illness prevention, it puts serious stress on our hands. With frequent cleansing and sanitization, our hands can get dry and develop serious skin issues like cracks, irritation, and eczema. To prevent damage, don't miss applying hand cream every time you cleanse or sanitize your hands. A good hand moisturizer will repair the damage while keeping your hands soft and youthful.
GlamUp Gallery Says,

Apply your moisturizer or hand cream whenever it feels dry or when your hands are damp after hand washing.
2. Moisturize, Moisturize, Moisturize!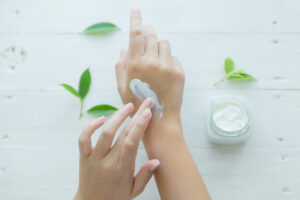 Our hands are constantly in action: cooking food, cleaning dishes, washing clothes, bathing, taking care of children, cleaning up the mess, and the list goes on. The constant contact with water and chemicals, steals the natural moisture of hands, making them dry and more prone to damage. The result you can see in the form of white scratches on the back of the hands.
No, we are not preventing you to do your daily chores. We are just advocating the importance of using the best hand moisturizer. Every time you wash your hands, apply moisturizer to hydrate the skin and replenish the damage. For overnight repair, don't miss applying the hand moisturizer before going to bed. Dry hands in winter will no longer be a problem with frequent moisturizer application.
3. Shield against the UV rays with sunscreen
The damaging UVA rays don't discriminate with any body part, be it our face, back, feet or hands. So, when we apply sunscreen to face, why not use SPF for our hands?
The result of not using sunscreen on hands? Dark spots, dry and rough skin, wrinkles, cracks and dark knuckles. Do you want them?  Of course not! Then to ward off these ageing signs, wear SPF daily on your hands every time you go in the sun. You can either apply a separate broad-spectrum sunscreen or find a hand cream with SPF 30+ for minimalist skin care.
4. Exfoliate for rejuvenation
Exfoliation is an all-around win. It helps improve blood circulation, remove dead skin cells and promote skin rejuvenation on the hands. Result? Your hands will look more youthful, glowing and rejuvenated. Timely exfoliation give a good start to your hand care procedure.
GlamUp Gallery Says,

Exfoliating once or twice a week followed by anti aging hand cream is great to form a hand care routine. Exfoliating too frequently can cause skin irritation.
5. Homemade hand mask for dark knuckles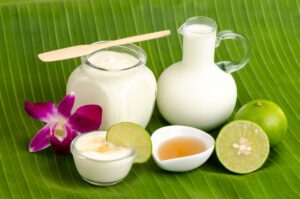 Dark knuckles on the hands look so ugly and irritating. While people say that frequent washing and using bleaching products can help lighten them, these habits can actually worsen the problem rather than treating. To treat dark knuckles naturally, you can try a DIY homemade hand mask.
What? You don't homemade hand mask recipe? Here it is.
Mix 2 tablespoons of honey with a few drops of lemon juice. Apply the paste to the dark knuckles and rub for 10 minutes, then wash it off. Repeat it daily to notice the visible result soon.
Don't Miss: 10 best face mask recipes you can make at home to get glowing skin
6. Use a nail brush to kick out stubborn dirt
That dirt and bacteria hiding under your fingernails look so irritating and put a big question mark on your hand hygiene. While frequent cleansing is great, it often fails to clean under fingernails. Hence, it is best to use a nail brush to remove anything left behind after the regular wash.
Using a nail brush might seem like an extra step in your hand care routine. But it does not take long to use the nail brush. Simply scrub back and forth, under and over the nails and you are good to go. Also, it is a good step in your nail care routine too if you want your bare nails to look their best.
7. Apply cuticle oil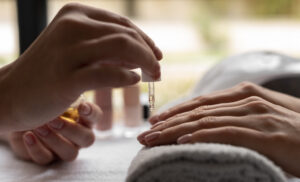 Give your cuticles the little TLC they deserve whenever you have some spare time. Massage your nails and surrounding cuticles with a small dose of cuticle oil. It will help soften and hydrate the cuticles, making you free from the risk of infection, ingrown and hang nails.
8. Wear hand gloves
Cleaning supplies like detergent powder, soap, bleach etc. are the worst enemies for the soft skin of your hands. While these are the basic necessities and their use is inevitable, you can wear protective hand gloves to prevent their damaging effect. After all, prevention is better than cure. So, the next time you do dishes, laundry, gardening etc. don't miss wearing rubber hand gloves for extra care.
GlamUp Gallery Says,

Cold temperatures and low humidity in winter mean less moisture in the air, leading to dry and chapped hands. To prevent your hands from drying out, wear hand care gloves whenever possible.
9. Nail your hand care routine with DIY Manicure steps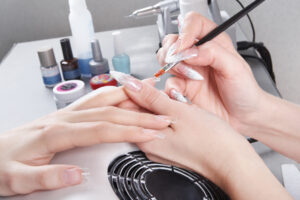 Frankly speaking, your hand care routine is incomplete without manicured nails. Your hands are soft, clean and smooth but what about your nails? Are they impressive enough to catch attention? No? Then, give yourself a DIY manicure at home or book a salon appointment for nail art to give your nails the needed attention they deserve. Also, it will make your hands look well-groomed and beautiful.
So, what are you waiting for? Just go and get your nails done now! Guys, you too can go for a manicure and opt for transparent nail paint. After all, why should girls have all the fun? Hand and nail care are for everyone.
Related Article: How To Do Manicure – A Step By Step Tutorial For DIY Manicures
Hand Care Tips:
Keep a hand cream beside hand wash. This way, every time you wash your hands, you will remember to moisturize your hands.
Carry a small box of hand cream with SP30 or more in your handbag. It will help level up your hand care game even on the go.
In winter when the temperature drops down and dry air is all around, your daily moisturizer or hand cream will not be enough for the best hand care. You need a humidifier at home to hydrate your skin at its best.
Use a hand balm after moisturizer to treat excessively dry or damaged hands in winter.

Avoid hand dryers and try to dry your hands with a paper towel or naturally. Hand dryers can cause dryness, making your hands dull and damaged. How? Artificial hot air rapidly coming in contact with your hands can steal the moisture out of your hands. 

Follow a hand care routine regularly to keep your hands at their best. You can do this twice a day, in the morning and at night or throughout the day whenever you wash your hands.
Synopsis
It is our little effort to help you build a hand care routine with some hand care tips. So, amp your self care regimen now and let this hand care guide serve you as the inspiration you needed to give your hands the TLC they deserve.  
Also Read: 13 Best Men Grooming Tips – A Complete Guide For A Better Lifestyle!