Picture this: the invitation to the most glamorous party of the year has arrived, and you are excited to make a lasting impression. You have got the perfect outfit, the killer heels, and trendy accessories but there is one more thing you need – flawless party makeup.
It is where we often get stuck. Not anymore! In this beauty blog on party makeup, we will take you on a journey to master the art of party makeup for beginners and professionals. Whether you are a man or a woman, we have got you covered with expert beauty tips, trendy looks, skin care routine, and product recommendations to help you shine at every event.
"Makeup is about balance. When the eye makes a statement, the lips should be quiet."

As quoted by a renowned makeup artist Bobbi Brown.
Benefits of Flawless Party Makeup Look
Party makeup is not just about lipstick and eyeshadow; it is a bridge between inner confidence and outer radiance. Thus, whether you are a man or a woman, party makeup holds the power to elevate your aura, amplify your charm, and bring your inner radiance to the forefront.
Here are some of the best benefits of achieving a flawless party makeup look that will help you steal the show:
A flawlessly executed party makeup look can significantly boost your confidence. When you look your best, you feel more self-assured and ready to take on any social gathering with grace.
From a festive eve to a club night and beyond, flawless party makeup will help you stand out in the crowd, making you the center of attention and leaving a lasting impression.
Well-coordinated makeup can accentuate your party attire, ensuring a harmonious and elegant overall look.
Flawless makeup ensures that you look stunning in every snapshot, providing you with picture-perfect look.
A professionally done party makeup look will typically last throughout the event, so you won't need to constantly touch it up.
A professionally done party makeup typically lasts throughout the event, so you won't need to constantly touch it up.
Pro Tip

Use high-quality, long-lasting makeup products that are both safe for your skin and designed to withstand the rigors of a party. This ensures that your makeup remains impeccable all night.

GlamUp Gallery
Party Makeup for Women
Ladies, it's time to unleash your creativity with party makeup. Whether you are preparing for an elegant soirée, a casual get-together, or a neon party, the world of party makeup offers a captivating array of possibilities. Let's delve into the nuances of party makeup, from skincare preparation to eye-catching trends, empowering you to shine brilliantly at every event.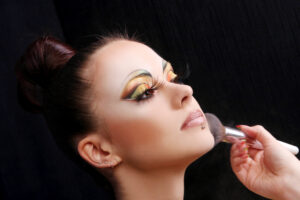 Prepping Your Canvas
Before you start painting your masterpiece, you need a clean and smooth canvas. Your skin deserves some pampering too. Begin with:
Cleansing, Toning, and Moisturizing: Start with a clean face. Use a gentle cleanser, followed by facial toner to balance your skin's pH, and finish with a hydrating moisturizer.
Choosing the Right Skincare Products: Pick your skin care products cautiously, suitable for your skin type and concerns. Consider serums, eye creams, and treatments if needed.
Exfoliation and Skincare Routine: In the days leading up to the party, exfoliate to remove dead skin cells. Stick to your daily skincare routine for a glowing complexion.
Foundation of Perfection
Your foundation should be as flawless as your dance moves. Here's how to achieve that:
Choose the Right Foundation Shade: Choose a shade that matches your skin tone. Test it on your jawline to find the right match.
Apply Evenly: Use a foundation brush, sponge, or fingers for a seamless blend. Don't forget to blend it into your neck for a natural look.
Conceal Blemishes: Concealer is your secret weapon for covering imperfections. Dab it on trouble spots and blend gently.
Related Article: 5 Tips For Buying The Best Makeup Foundation For You
Captivating Eye Makeup Looks
The eyes are the windows to your soul; make them captivating with a perfect eye makeup look.
Eyeshadow Application: Different eye shapes require different approaches. Find out your unique eye shape and the best approach to apply eyeshadow to enhance your unique features.
Eyeliner Styles: Experiment with different eyeliner styles to make your eyes pop. Winged, smudged, or tightline – the choice is yours.
Accentuate Your Eyelashes: Invest in a waterproof mascara for tear-proof beauty. False eyelashes can add drama to your look.
Related Article: Eye Makeup Looks for Beginners – Tips and Tutorial
Let Your Lips Do the Talking
Luscious lips are your ticket to a memorable night, helping you get perfect pouts, soft kissable lips, and beyond.
Lip Color Shade: Choose the right lipstick shades as per the party theme. Bold reds, sultry nudes, or playful pinks – pick a shade that suits the party's vibe.
Application Techniques: Define your lips with a lip liner and apply your lipstick for a fuller pout.
Lip Care: Keep your lips hydrated with lip balm to prevent dryness during the party.
Related Article: Lip Care – Be Kiss Ready!
As the iconic makeup artist Bobbi Brown once wisely noted, "Makeup is a powerful way to effectively reveal something unique about your inner self." So, don't be hesitant to embrace bold lip colors for a party – it's your opportunity to express your inner confidence and allure.
Sculpting Your Features
Chisel and contour for a sculpted appearance:
Contouring and Highlighting: Define your cheekbones, nose, and jawline with contouring. Highlight the high points of your face for radiance.
Blush Application: Add a healthy flush to your cheeks with blush. Smile and apply it to the apples of your cheeks.
Setting Makeup with Translucent Powder: Lock in your makeup with a light dusting of translucent powder for longevity.
You may like reading: How To Apply Makeup – A Step By Step Guide
Nail Art for the Perfect Party Look
Party preparation isn't limited to makeup and outfits; your nails deserve some attention too. Nail art adds a touch of glamour to your overall party look. Here's how to make your nails party-ready.
Remember, your nails are a canvas for self-expression. Whether you opt for a simple design or a more elaborate one, your nails will be an eye-catching detail that completes your party ensemble.
When planning to do nail art, you are left with two options: visit a salon for professional expertise or do it yourself:
If you prefer to go with the latter option, here is your quick resort to master the technique of nail art.
Enjoy the process and get ready to flaunt your perfectly polished nails at the party!
Also Read: How To Do Manicure – A Step By Step Tutorial For DIY Manicures
Party Makeup for Men
Men, now it is your turn to dazzle at the event. Party makeup for men is all about enhancing your features while keeping it natural. Here's how: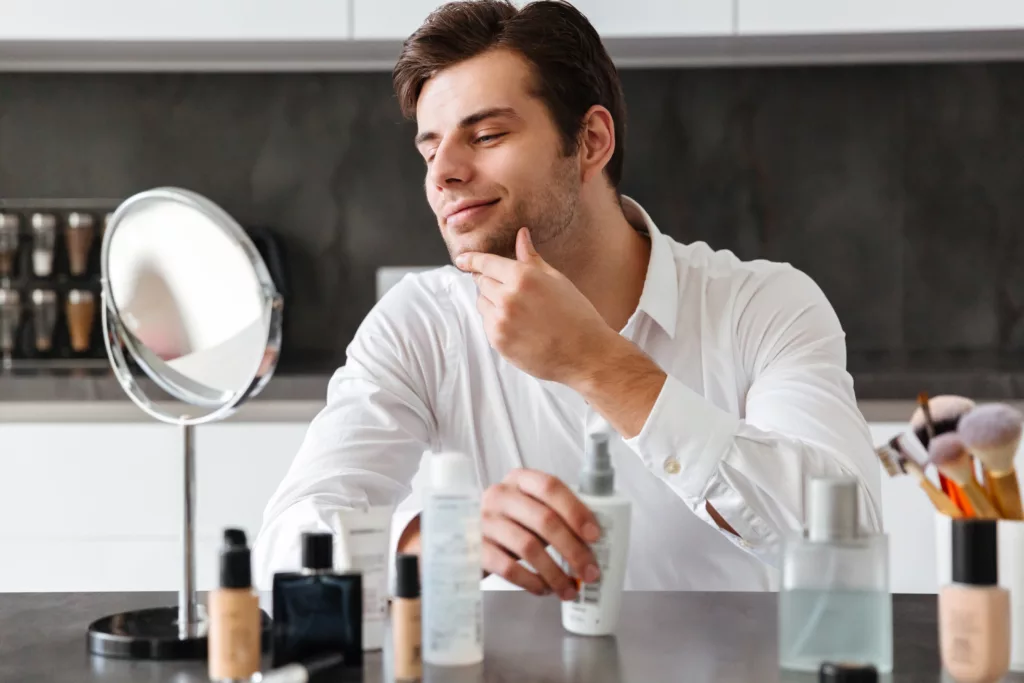 Natural Complexion: Start with a clean face. Use a tinted moisturizer or BB cream for a subtle, even skin tone.
Brows: Groom your eyebrows by trimming and shaping them. Brush them upward for a neat look.
Subtle Contour: Use a matte bronzer to lightly contour your cheekbones and jawline for definition.
Mascara for Impact: If you want to accentuate your lashes, a touch of clear mascara can do wonders.
Lips: A lip balm is enough to keep your lips soft and hydrated.
Facial: You can also opt for DIY facial techniques to enhance your natural glow.
Pro Makeup Hacks and Beauty Tips
Here are some pro tips to ensure your party makeup stays flawless:
Primer: Use a makeup primer to create a smooth base and help your makeup last longer.
Setting Powder: Dust translucent powder over your makeup to set it.
Setting Spray: Finish with a setting spray to lock in your makeup.
Blotting Papers: Keep blotting papers on hand to combat shine during the party.
Emergency Kit: Pack a small kit with lipstick, concealer, and powder for quick touch-ups.
Now that know how to master the art of different party makeup looks, it's time to experiment and find the one that resonates with your style and matches the occasion. Keep in mind that makeup is an art, and your face serves as the canvas. So, let your creativity shine, enjoy the process, and be the life of the party!
Final Thoughts
Mastering party makeup is all about enhancing your natural beauty while having fun with different looks. Whether you're a man or a woman, there are endless possibilities to explore and experiment with. So, the next time you receive a party invitation, you'll be ready to glam up and shine like a star!